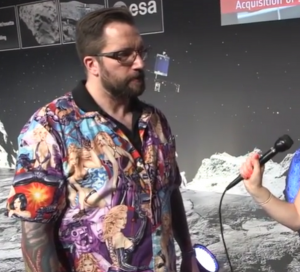 I spotted a headline the other day but didn't get around to clicking on the story until just now. It's a doozy.
A fellow by the name of Matt Taylor is a member of the Rosetta team that guided the Philae lander onto a comet. During the hours leading up to the landing a number of news outlets were interviewing the various scientists. Taylor chose to wear an interesting shirt to work that day and his choice is raising some questions.
My initial reaction to the headline was that some feminist organizations were over-reacting to a relatively harmless shirt. Then I clicked on the story and saw the shirt. I do think Taylor should be able to wear whatever shirt he wants and if his employers have no problem with such attire in the workplace, so be it. However, if I wore a shirt like that to work I'd be sent home. I'd be told to change it. It's clearly inappropriate for the office and to wear it on the day you know news media is coming in droves is clearly a poor judgment call.
I'm sure Taylor is very good at his job and that should outweigh what shirt he chooses to wear. However, there are dress codes for a reason. I'd certainly be uncomfortable if one of my co-workers chose to wear a shirt like that at work.
I'm certainly not saying that Taylor views women solely as sex-objects. He could be, and probably is, a great guy. He could love women and be turned on by intelligent, attractive, and powerful women with an attitude; I know I am!
He is probably not in the slightest bit misogynistic. That's why it's a shame he chose to wear that shirt to work on that day. He portrayed himself in a certain light. By choosing to wear that shirt on that day, he presented himself in a particular fashion willingly and knowingly. If people are offended then he only has himself to blame. If people have no problem with it then that's their business as well.
Certainly only his employer has a right to enforce a particular dress-code. The media has no say, nor does anyone offended by the shirt. If I find it inappropriate it has no weight with Taylor or his bosses. It's their company, it's his shirt.
Now, off to go find some hot pictures of Supergirl. (I prefer my intelligent, attractive, and powerful women more towards the trim and athletic side, but hey, that's me).
Tom Liberman
Sword and Sorcery Fantasy with a Libertarian Edge
Purchase The Broken Throne today!
The Black Sphere Coming Soon!