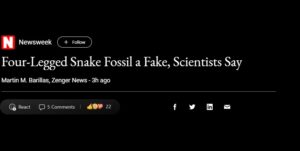 I've been reading mostly science articles of late and one about a four-legged snake caught my eyes. The headline reads Four-Legged Snake Fossil a Fake, Scientists Say. The problem is the fossil isn't a fake at all. It's just a misidentified species and new evidence shed light on that subject.
Thus, we have another entry in my Misleading Headlines category. This one comes from Newsweek who, in my opinion at least, should know better. Still, the unending quest for clicks takes no prisoners.
The Interest in a Four-Legged Snake
The article is actually quite interesting for a number of reasons. Four-legged snake fossil are of interest because the fossil record indicates snakes split off from their legged ancestors at some time in the past. This sort of DNA investigation often leads to new fossil discoveries nowadays.
Basically, scientists determine, through various means, when species split from one another and then begin searching for fossils that match the prediction. If it is true that snakes split off from vertebrates with legs, we'd except to see some fossils that look snake-like but also have four legs.
The original classification was introduced in Science Magazine back in 2015. A study of the rock formations from around where the fossil was found indicated it much likely classification was a marine lizard called dolichosaurs.
Fossil Theft
The second fascinating thing about the article is that the fossil is the illegality of its current location. It is illegal to remove fossils from Brazil, it's original provenance, and has been so since 1945. It is currently held at the Bürgermeister-Müller-Museum in Solnhofen, Germany although the article doesn't give an explanation as how it got there.
Perhaps it was stolen from the private collection or perhaps the owner or the owner's heirs simply sold it and we unaware of the illegality of doing so. It's impossible to guess from the article but it does shed a light on the lucrative and illegal fossil industry.
People like fossils and they can be incredibly valuable. Private collectors like to have such interesting things are willing to pay for them and public museums are not immune to such temptations either. Not that I'm accusing the Bürgermeister-Müller-Museum of any chicanery in this regard.
Conclusion
Great and interesting article about the possibility of a four-legged snake ancestor discovery. Terrible misleading headline indicating the fossil in question was a fake. It's a simple misidentification, something that happens quite often.
Tom Liberman