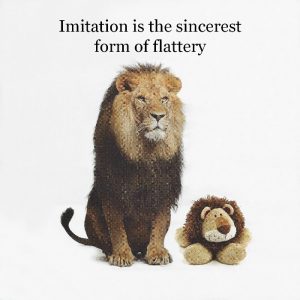 I've noticed a general trend in this world in Taking Offense all too quickly and with little, if any, provocation. The most egregious examples of this, to my mind at least, are people who mistake mimicry as a reason to be offended rather than as a form of flattery.
Let's dispense with the partisan politics right away, devotees of both parties are equally offended by remarks made by people from the opposite party in equivalent amounts. The so-called snowflakes exist on the left, right and, sad to say, here in Libertarian Land as well.
It's been said that taking offense is something you do to yourself, rather than others doing it to you; however, I will not pretend words can't be vicious and painful. It is sometimes perfectly appropriate to be offended when someone says or does something particularly distasteful. What I'd like to address is the difference between mimicry and mockery.
Mimicry is a thing that seems to engender a great deal of taking offense when it should not. If a person of one culture wears the clothes of second culture or the hairstyle associated with another culture, or enjoys the music of yet another culture this is not offense worthy, it is mimicry. A white girl who wears a kimono to prom is not engaged in offensive behavior. An Asian boy in dreadlocks is not engaged in offensive behavior. A black girl listening to Ozzy Osbourn is doing so because she enjoys it, not because she is stealing anyone's culture.
In this globalized world of ours we see this sort of mimicry in every walk of life. A trend catches on in Japan and soon enough teenagers the world over are imitating it. Some interesting historical style from Africa looks good and again, people from all over the world are soon wearing clothes attuned to that look. A phrase from Russia catches the fancy of people and soon enough people the world over, imitating thick Russian accents, are saying it everywhere. This is mimicry and it is flattery, not mockery.
Mockery is easy enough to spot as well. A person talking with the accent of a particular region of the United States and saying moronic and stereotypical things is an example of mocking and taking offense is reasonable. Painting your face black and making comments that portray black people in a bad light is mocking. Painting your face black and going to a Halloween party as Oprah Winfrey is mimicry and flattery. I realize this last one is going to trigger some people in this world of ours but that's the way it goes.
If I'm not free to dress up as Lou Brock, one of my childhood heroes, because painting my face dark is reminiscent of people who dressed in blackface to mock and denigrate black people, then I can never honor Brock, no matter how honorable my intentions. No one can honor, through mimicry, someone of a different race or gender. I understand there is nuance but it seems generally obvious to see the difference between mockery and mimicry.
If we pretend to be unable to recognize the difference between the two and simply ban behavior, then we are not making the world a better place, we are making it worse.
Tom Liberman