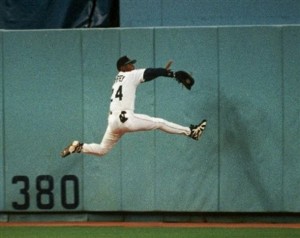 There's an ugly tradition in baseball regarding the Hall of Fame and I'm hardly the first person to write about it but here I go anyway, please forgive me.
No player has ever been elected into the Hall of Fame by a unanimous vote of the Baseball Writers' Association of America. The very first inductees in the Hall of Fame were Babe Ruth, Ty Cobb, Honus Wagner, Christy Mathewson, and Walter Johnson. Since then the likes of Stan Musial, Willie Mays, Tom Seaver, and others have joined them. Men who were elite among the elites. Giants of the game.
There is no question these players deserved the vote of every writer but tradition says no. And thus the greatest player I ever saw, Ken Griffey Jr., was supported by only 437 of the 440 writers voting.
The first vote back in 1936 was a special situation. Voters were only allowed to put ten names on the ballot and there was quite a backlog of worthy players. Nap Lajoie, Tris Speaker, Rogers Hornsby, Micky Cochrane, and George Sisler didn't make it that first year although later joined.
Writers who left off Ruth or Cobb were instead voting for Speaker or Hornsby. I'm willing to give them a reluctant shrug of the shoulders. That first list did have ten players fairly close in skills to that top five. It's possible that someone could argue Ruth was the 11st best player on that list. Unlikely, I'm not buying it, but it's not a completely unreasonable position.
The backlog continued for a while but eventually there were fewer than ten deserving candidates each year.
There are some members of the voting block who think because Cobb and the others were not unanimous, to elect anyone with 100% of the vote is insulting to those five, it somehow diminishes those five. They often submit a ballot with no names at all.
This is injustice. This is unfair. It is against the traditions of our nation.
Let's imagine a world in which voters do not cast their ballot for the person they think best represents the qualities needed for the position. I know it is difficult to fathom but try to conjure a world in which people vote for or against a candidate not because of their abilities but because of their perceived chances of winning or losing. Imagine a nation in which people have so long voted for inferior candidates that qualified people have no desire to run for office, where the only choices are bad and worse.
Cast your important ballot for a person based upon their record. Vote for them because they are the candidate that most closely represents your views. Vote for them because it is the right thing to do. Vote for that candidate no matter their chances of winning or losing. When we vote for the most worthy candidate regardless of other factors, we make the nation strong. Anything else is a betrayal of your obligation as a voter. It destroys our country one election at a time.
Yes, I've finally gotten to the point. I've tricked you and I feel shame. Vote for Gary Johnson.
Tom Liberman
Sword and Sorcery fantasy with a Libertarian Ideology
Current Release: The Girl in Glass I: Apparition
Next Release: The Gray Horn