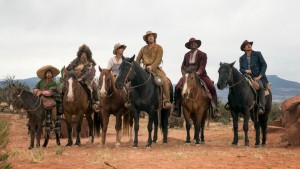 There's an interesting story from the entertainment industry about an Adam Sandler movie called The Ridiculous 6.
It's not an earth shaking story by any means but I do think it gives us an interesting insight into the nature of capitalism and the creativity with which people use statistics.
First a little background. Netflix entered into a contract with Sandler to produce four films for exclusive distribution on the Netflix network. It's a nice way for companies like Netflix to have exclusive content but that's not the gist of my blog today.
The Ridiculous 6 was roundly criticized as a poor movie by both critics and audiences. Rotten Tomato accumulates critiques from both professionals and regular movie watchers.
Now comes the story I referenced in the first sentence of this post. The Chief Operating Officer of Netflix, Ted Sarandos, announced that the movie has been viewed by more people in the first thirty days than any other Netflix movie. This statistic would seem to bely the many poor reviews for the film. If that many people are watching, it can't be all that bad. At least that's a relatively logical conclusion. That's exactly the conclusion that Sarandos and Netflix would like you to have.
I have not seen the movie and I can't say whether it is as awful as critics have described or if it's not all that bad. But when I read that statistic my mind began to whirl. "Tom," I said to myself. "That's an odd statistic to put out there. 30 days. Most viewed. I wonder if there's something going on that needs investigation."
Okay, I didn't really say that to myself, my thought process was more like, "Ding, Ding, bullshit alert going off, check it out you sexy beast!"
So I rushed home after the gym, put a kettle on to boil, put on my jammies, sat down in front of the computer, and got to work!
Here's the deal. Netflix has banners all over its site promoting the movie and when you click one of them movie starts automatically. This counts as a view. In addition the Netflix Streaming Catalog is significantly smaller than their DVD catalog. Many of the biggest blockbusters are not available for streaming. So the competition is somewhat diminished when comparing the first 30 days of release.
I'm certain that Sarandos is telling the truth but I'm equally certain that this truth doesn't tell the entire story and many people might easily come to erroneous, but reasonable, conclusions.
There's nothing wrong with any of this. Netflix has every right to promote their original content as they desire and count views how they want. They are in a business and want to make money. As long as they don't lie, more power to them.
Anyone who is "tricked" into watching the movie can turn it off at any time. Even someone who spends $10 to sign up for Netflix simply to watch the movie isn't really out a significant amount of money. Let the buyer beware. The reviews are out there and anyone who claims they didn't know it was supposed to be awful has only themselves to blame.
My only point here is that people should always take time for a critical examination when someone tells them something that sounds a little too good to be true. Statistics can be manipulated.
And that, my friends, is that. Catch you next time!
Tom Liberman
Sword and Sorcery fantasy with a Libertarian Ideology
Current Release: The Girl in Glass I: Apparition
Next Release: The Gray Horn