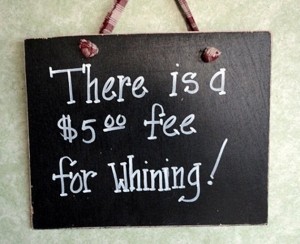 I've been a hose racing fan since that magical summer of 1973 when Secretariat raced to the Triple Crown. I was nine years old and my mother took us on a vacation to a wonderful resort in French Lick, Indiana. We happened to be there when Secretariat won the Belmont Stakes in what many people consider the greatest single athletic performance ever. Five years later I watched Affirmed battle Alydar in what might have been the greatest head-to-head competition in the history of horse racing.
Why do I mention this? Yesterday afternoon a horse named California Chrome raced in the Belmont Stakes hoping to duplicate what Secretariat and Affirmed accomplished by winning the Triple Crown. No horse has won the Kentucky Derby, Preakness Stakes, and Belmont since Affirmed did it in 1978. California Chrome came up short finishing in fourth place. After the race the owner made some comments that are being fairly roundly criticized and it got me to thinking about the difference between complaining and whining.
In this case the owner of California Chrome was upset the horses that defeated his horse did not race in either the Kentucky Derby or Preakness Stakes and thus were rested and fresh for the grueling Belmont which is the longest of the three races. That such tactics make it all but impossible for a horse to win the Triple Crown and this accounts for the fact that it's been thirty-six years since the feat has been accomplished. I think that Steve Coburn has a legitimate point but his tone was very bitter and he used words like "cheaters" to describe his competition.
He has a legitimate complaint but he clearly came across as a whiner and few people have been, so far, sympathetic to his cause.
I don't want to get into an in-depth analysis of whether Coburn was right although a quick perusal of Wikipedia indicates that some of the horses that Secretariat, Seattle Slew, and Affirmed faced in the Belmont Stakes had not run in the earlier races.
My real question is when does legitimate complaining become whining? It's a question that speaks fairly clearly to my Libertarianism. As a Libertarian I strongly believe in both personal responsibility and accomplishment. I don't like it when people complain about the state of their lives when they could improve things simply by taking a more proactive look at how they behave. But there are certainly times when a person is blocked from doing something. When they are cheated. When is it right to complain and when it is better to simply put your head down and fix the problem yourself?
Let's say a two children are playing and one takes a toy from the other. Should the first child take the toy back or complain to adults about the situation? Let's imagine someone at works gets ahead of you through subterfuge or devious behavior. Should you complain to the bosses or should you take measures to make sure you get ahead in the future?
I think for the most part people respect someone who handles the situation themselves. Someone who chalks up a defeat as a life-lesson and goes about their business with their chin out and their eyes firm. We don't like a whiner. We like someone who attacks a problem and defeats it.
Let's take it a step further. The children get into a physical confrontation over the toy. Your rival at work refuses to give you information needed to accomplish a task despite repeated requests. When does complaining become legitimate?
My feeling is that complaining is largely only legitimate after you've give a strong, good-faith effort to solve the problem yourself. Even then it's dangerous territory. No one likes a tattle-tale.
I think it's a very difficult and tricky aspect of being an adult. It's a complex issue that I can't solve in a single blog or probably ever.
My advice is that when you face adversity take it head on yourself. Don't accept defeat and say oh well. Don't go crying to the boss. Deal with it. If that fails then you can consider taking it up the chain of  command.
I think we've all encountered situations like this and the first thing your foe is going to to do is make you out to be a complaining whiner. If you can honestly show that you attempted to resolve the problem without interference from a superior you will be better off when the confrontation finally happens. Heck, a lot of times attacking the problem personally results in a solution without involving higher-ups.
Does anyone have any stories to share? Do you agree with me? Disagree? Let me know!
Tom Liberman
Sword and Sorcery Fantasy with a Libertarian Ideology
Purchase The Broken Throne today!
See All my Books