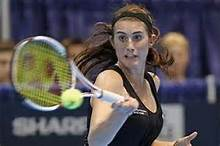 There's an interesting story hitting the news today about a woman tennis player who is quitting at least partially because of the trolling attacks on her social media site. I find a number of things discouraging about this story and, of course, I'll tell you all about it. First, let's recap the facts.
Rebecca Marino is a largely unsuccessful 22-year old Canadian tennis player who made it to one final in her eight year professional career. Her top ranking was 38th in the world and she has since fallen out of the top 100. She suffered an injury late last year and lost in the first round of the Australian Open this year before withdrawing from future tournaments. It's fairly safe to say that she was never going to be a top-ranked player in the Women's Tennis Association. I'm not trying to be cruel here, I'm just giving background information. To be in the top 100 players in the world means she is an astonishingly good tennis player, just not good enough to be among the elite.
Her stated reason for retiring from the game is that she has been prone to depression for most of her life and that the constant barrage of negativity on her social networking pages contributed significantly enough to that depression that she felt quitting was a better choice for her mental health. It's also possible that she realized her career was going nowhere and used this an excuse.
Looking at the comments to the story I think the initial reaction to this announcement is that people will tell her to just ignore the negative things and move on with life. I think ignoring the comments and moving on with life is great advice but when you are prone to depression it's not as easy to follow as many might imagine. To begin with I'm not sure that everyone is fully acquainted with the lengths, depths, and disgusting depravity to which trollers stoop. I don't want this blog to be about the problems associated with internet bullying and trolling but they are significant and I don't want people to underestimate their power.
While I respect Rebecca's decision I think it is a mistake. She should work hard on ignoring such attacks because giving in is the worst decision. Easier said than done but worth the effort. It's not an easy road but I think she will be best served if she gets some help to learn how to deal with such vicious attacks. There is still plenty of time for her to change her mind and I hope that she does so.
There are many trollers out there who do it more for amusement than to cause pain. A troller who posts on a political story to get a reaction is not really making a horrific personal attack but it can get out-of-hand quickly. Civil discourse is a good thing for you and for this nation.
I'm of the opinion that when a troller makes vile posts they are really hurting their own sense of self-worth in the long run. It's not worth it. Making a positive contribution is the best feeling you will ever have. Give it a try.
In summation I guess I'd say there is no final answer. There will always be those who hide behind anonymity to say awful things and words do hurt. I hope Rebecca decides to return to tennis and I hope that some trollers out there decide they'd rather do something positive with their free time. That is their decision. In the end we are only responsible for ourselves.
Tom Liberman