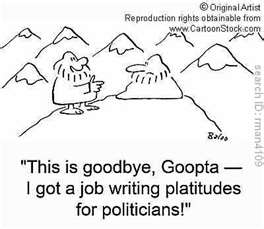 Day three of my attack on inane and stupid platitudes I've seen on Facebook! Today I take on the sporting world. How many of you have heard someone say, I gave one hundred and ten percent? I think I could spend a week or two on dumb sports platitudes alone but I decided to choose this one because it is largely used as an excuse for failure or a dangerous encouragement to over do your effort.
As with most platitudes it is issued with fairly good intentions but the reality of it is that it gives people an unrealistic idea of what is expected of them or of the performance they've just witnessed.
I think the first thing to do here is to examine the idea of what giving one hundred and ten percent is intended to convey. It essentially means that a person gives their maximum effort and is usually invoked before or after a sporting event.
Relatively obviously it is impossible to give more than one hundred percent so the platitude causes me to roll my eyes right from the beginning. However, I want to give the expression a more in-depth examination.
The main reason I think it is dangerous is when used before an event to exhort someone to maximum effort. "C'mon team, we have to give it one hundred and ten percent to win". Giving your all is definitely a good thing. When we are trying to achieve something it is important to give our best effort, otherwise the chance of failure increases. However, I am of the opinion that one hundred and ten percent means, or at least implies, something different than giving our best effort. It means to strain our bodies past their breaking point.
A good example of this is my yoga classes. When I started yoga I took the beginner classes and in them the instructor usually did a good job of explaining how to position my body so as to avoid injury. There was plenty of time spent on instruction and probably not as much on actual yoga practice itself. As I moved to the intermediate classes I immediately encountered instructors who switched quickly from strenuous position to strenuous position without much time making sure people were doing them safely. This is probably not a bad thing as the students in the more advanced classes want less instruction and more yoga. However, it does increase the possibility of injury. If I give one hundred and ten percent in a yoga class I'll end up injured.
Another thing I often see when people are overly encouraged is an initial burst of energy which wanes over the course of an event. Sometimes giving your best means pacing your effort for the length of the race. When we exhort people to give one hundred and ten percent I think the message is often taken as "Go all out". This is almost always a counterproductive plan of action. By reserving our energy for crucial moments and pacing our output we are far more likely to succeed.
I can't tell you how often I've seen tennis matches where a player tanks a set to reserve energy and comes back to win the match. When you are down 5 – 0 the chances of winning the set decrease and the expenditure of energy can be counterproductive. I'm not exactly a fan of giving up either so there is a flip-side to this argument. I think judicious use of reserves is generally a good plan.
The other time we frequently see the platitude is by a player after a game or match. It is usually meant to convey that they tried as hard as possible. I prefer the platitude, "I left it all on the field". This to me conveys that they tried their best, played their best, but the other player or team just had more on that day. To me, that is victory even in defeat. Whenever I can honestly say I did my best I have a good feeling about my effort, win or lose.
Conversely, when I hear someone say they gave one hundred and ten percent my immediate reaction is that they didn't give their best effort and are trying to pretend they did. Maybe that's unfair but that's the way I see it.
So, everyone out there, give it your best!
Thanks for reading and Comment, Tweet, Link, Share, Stumble, Digg, Pinterest, and all the rest!
Tom Liberman
Sword and Sorcery fantasy with a Libertarian Twist