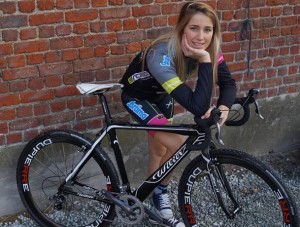 There's an absolutely fascinating sports case taking place at the World Championship Cyclo-Cross event where a woman named Femke Van den Driessche was found to have a motor in her bicycle. I've written in a general way about Performance Enhancing Drugs in the past and also about mechanical aid in regards to Oscar Pistorious and this latest incident is but an extension of those blogs.
It's clear that Van den Driessche was on a bike that had a motor in it. It is clear people will cheat to get ahead at sports. This cannot be denied. What I want to talk about today is the impact such engineering is going to have on the sporting world and how we deal with it.
Soon replacement parts in humans will be able to perform more ably than their originals. Motors are being installed that cannot be spotted without a time-consuming inspections. Drugs that are undetectable enhance human performance. Someone will find away to make a shoe that allows a player to jump higher or run faster. Gloves will be created that track a ball in flight. The only end to the improvements that can be made is human imagination.
No sport and no player will be above suspicion. It is not just at the highest level of professional sports, your child might be beaten out on the local cross-country team by another kid who is using a technological advantage. All incredible performance will generate skepticism. Any improvement in skills will cause suspicion. It is endless and it is inevitable.
The recourse to all this is largely futile. For every bike inspected for a motor there will be an engineer figuring out a way to do it and avoid the inspection. For every PED test created to spot a drug there will be a method found to mask it.
Does this mean we should stop trying to ferret out those who break the rules? Should we just dispense with rules altogether and accept that such methods are a fact of sport?
I think these are good questions because I believe sport itself is important and a force of good in this world.
It's good to encourage human achievement and sport is where this is often most visibly on display. I find few things in life more exhilarating than well-played sporting endeavors and astounding athletic achievement. It is disheartening to think such performances came about because one team or athlete used something to give them an advantage.
At work such improvement is considered a good thing but not so in sports. In work if you complete a job more quickly your receive rewards, but in sport everyone knows that a motor can propel a bicycle faster and a computer can play better than an unaided athlete. The point is to do so without such aid against your peers.
Therefore I think it's a good idea to continue to fight against those who do not play by the rules. It is true that we cannot catch all the cheaters nor prevent all the cheating. It is true that every great performance in the future will be subject to innuendo, speculation, and outright accusations.
What else is there to do?
Tom Liberman