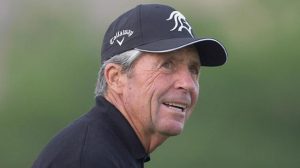 Gary Player is one of the greatest golfers in history. He's also pretty well known as a jerk. Golf is a sport known for being incredibly strict about rules interpretations. All of these things were on display when Player ranted against a record Bernhard Langer set, or didn't set, this weekend.
Player is upset that Langer is being credited with winning the most Majors on the Senior PGA Tour. Langer won his ninth at the Senior PGA Championship which eclipsed the eight won by Jack Nicklaus. Except, The Senior Open, the British Senior Open to most people, was not always included as a Major. Player won The Senior Open when it was not considered a Major three times. This technically brings his total of Senior Majors to nine.
The reason The Senior Open wasn't considered a Major on the Senior Tour like it is on the PGA Tour is because it wasn't well established in those first few years. It has since become a Major Championship.
Thus, we arrive at the situation in which we find ourselves. Player is upset he is not recognized as the all-time leader in Senior Majors. For a man with a massive ego like Player, this is intolerable. He must speak out angrily and has done so.
I think there's an interesting reality in all of this. Player is an egomaniacal jerk which he has displayed on any number of occasions. However, in this case he has a point. The Open has been considered one of the premier tournaments in all of golf for over a hundred years. The fact that the Senior Open wasn't considered a Major Championship during the years Player won three times seems like a rather petty distinction.
But petty distinctions are what the rules of golf are based upon. Those who interpret such rules are notorious for enforcing them to the letter. In this case Player comes out on the wrong end of that understanding. The Senior Open was not a Major Championship when he won and therefore his total wins do not take those into account. A more generous interpretation of the Senior Open wins would give Player nine wins. The fact that the Senior Open was later designated a major indicates its importance.
The end result of this little contretemps proves at least two things. Player is, as advertised, a jerk. Those who enforce the rules of golf are, as history proves, ridiculous sticklers for the letter of the law even when it subverts its intent.
I suppose it's nice you can count on some things.
Tom Liberman