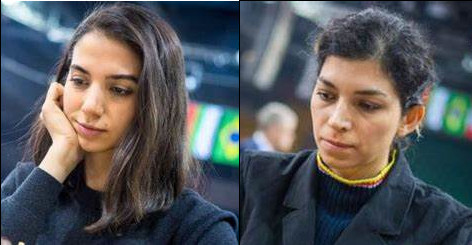 A subtle version of misogyny is on display in news stories about Iranian Women chess players. I've written about the subtleties of racism previously and today I take on a similar topic. Just because something is misogynistic doesn't mean it's obvious or even an intentional act.
Let's examine stories making the rounds about Iranian women chess players. Basically, Iranian women are required to wear a hijab. Recent protests in that country brought attention to the practice and a pair of Iranian women, Sara Khadem and Atousa Pourkashiyan are playing the World Rapid and Blitz championship not wearing hijabs.
What's the subtle misogyny in that? Let me explain.
What is Misogyny
I think the first thing to understand is the idea of misogyny. The dictionary defines it as dislike of, contempt, or ingrained prejudice against women. When we see a definition like this we think of open misogyny. Someone going around telling people that women are not deserving of human rights, they are weak, stupid, worthless.
The reality is that misogyny comes in many flavors and is not always obvious. That's where such things are insidious. We look at behavior that, at first glance, appears perfectly normal, and accept it as such. Even when it's actually not quite so harmless.
The Case of the Iranian Women Chess Players
If you look at the picture I've included at the top of this article, you'll see of the players in question. Khadem on the left and Pourkashiyan on the right. Can you guess what image the articles in question are displaying? Both women? Khadem? Pourkashiyan? I don't even really need to ask. You know the answer already. That's my point.
In fact, when I first read about this story, the only name I saw was Khadem. They didn't even bother to include the fact that Pourkashiyan also chose not to wear a hijab. It was only today I realized there were two women involved in the protest, if that word can be used.
Attractive Women are more Valuable
What's the subtle message from the fact that Khadem's picture is plastered all over the articles and Pourkashiyan's is not? Prettier is better. A woman's worth is in her beauty.
It's a little more complicated than that. The picture of an attractive woman brings more clicks to the story. The agencies publishing such articles want clicks, therefore they choose to put up the picture of Khadem.
That being said, if we boil it down to its essence, the misogyny is there. It's subtle, it's not easy to see. Not virulent. Not overly damaging. A shrug of the shoulders type of misogyny, still, it's there.
If you were the brother of Pourkashiyan, what would you say?
Conclusion
Little things add up in the mind of those prone to thinking this way. The path to misogyny, and most prejudices and hatreds, is not always obvious.
It's not always easy to be a better person and sometimes we don't even realize what we're doing is wrong. In this case, it's wrong not to include pictures of both women. It is misogyny, ever so subtle.
Tom Liberman