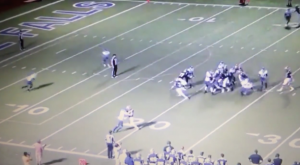 There's a pretty interesting story in the news about a pair of football players from John Jay High School in San Antonio who slammed into a referee during the course of a game.
The video is brutal and the comment sections were filled with hate, as one might expect. Many wanted the two boys to be put in jail for the rest of their lives and things of this nature. Some even advocated the death penalty. I wrote a comment about the incident in which I expressed the idea that the two boys were likely frustrated by a referee that was either plain awful or was actively cheating. That while I thought expulsion from the team and some community service time along with a fine for the school was in order, I didn't think it needed to go further than that.
My opinion was not popular.
More information is coming in about the incident. The boys unit coach told them: "this guy needs to pay for cheating us" for his calls in the game. At this point it is admitted that the referee ejected the wrong player from John Jay earlier in the game and there are multiple reports he used racial slurs against the players. The assistant has been suspended.
Just as I suggested restraint on punishing the boys I also suggest holding off vilifying the referee and coach until more facts are available.
I can tell you from my own experience in playing sports that referees do cheat. They don't like certain teams and certain coaches. The first time it happened to me was in little league baseball when an umpire called me out on a third strike that was, literally, over my head. I had looked back at him when he called the second strike on a ball that was pretty low. He didn't like that and he sure showed me. He showed me that refs cheat.
I wrote an entire post about this subject a while back. It's a subject that I'm passionate about. Cheating anyone is a perversion of the system. It prevents the person or team who is best prepared and plays better from winning. That undermines capitalism, it undermines truth, it undermines society. When you work so hard to achieve something and have it taken from you by someone you think is cheating, the rage you feel is difficult to express.
I stand by my original assessment of what should happen the players. I think suspending the coach for making the revenge statement is appropriate. If what the referee is accused of doing is supported then that person should be removed and never allowed to referee again.
The people who know the truth about this situation are the fellow referees. They know all about it. In this situation what we see all too often is the people with integrity refusing to turn over the person among them who doesn't have it. Their rational is that if people knew about the cheating, it tarnishes all referees. I disagree. What tarnishes any referee is cheating. When those who are aware of it don't report the cheating, that's what destroys their credibility. When they allow cheaters to operate openly they only encourage more cheating and further disrespect by coaches, players, and fans.
I'm certainly not saying the boys and the coach don't deserve punishment. I am saying that if the referee was cheating and using racial slurs, if his fellow referees were aware of it and said nothing; then it's only a matter of time until someone gets frustrated and enraged enough to do what the boys did.
Believe me, I've been there. I never punched a referee but I wasn't far away from doing it on a number of occasions.