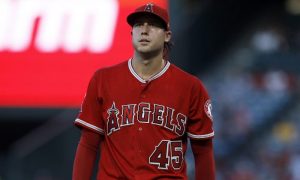 The recent death of Los Angeles Angles pitcher Tyler Skaggs from an overdose has led many people to call for Opioid Testing in Major League Baseball and professional sports in general. Most people seem to think Opioid Testing is a great idea. It's my opinion those of such an opinion neglect to acknowledge the reality of professional sports and that's what I'd like to discuss today.
The reason we sports fans get to marvel in the astounding performances of professional athletes across the athletic spectrum is because of pain management techniques including a large amount of opioid use. I well understand we'd like to believe athletes are able to put on these amazing shows night after night without the aid of pain management techniques but such is self-delusion. Top-level athletes push their bodies to the limit day after day and started doing so at a young age. They are beat up.
The way trainers get the athletes back on the field is through pain management and opioids are a big part of it. This is not something limited to professional athletes. I played baseball as a ten-year-old and I wasn't given opioids but I got injured even then. By the time an athlete reaches high school their bodies have already been subject to enormous stresses. Team doctors give them opioids so they can get on the field and entertain us, me, the sports fan. That's reality.
This being true, how exactly is a plan to implement opioid testing in professional sports ever going to work? If many, potentially the majority, of players are taking opioids then it becomes impossible to implement a program to test for them. There is no test that can tell the difference between heroin purchased illegally from Oxycodone prescribed by a team doctor.
It is entirely possible Skaggs got addicted to opioids because trainers started giving them to him when he first suffered significant pain from pitching and that might have been at a very young age. I have no knowledge of such a thing but it's not difficult to imagine quite a number of professional athletes have been taking prescription opioids for a long time.
This is the price they pay to entertain us, me. So, before I get on my high horse and start calling for Opioid Testing, perhaps I should examine my role in all of this, my responsibility in their pain, addiction, and even death. Pain that will follow them throughout their lives.
I understand it is their choice to play sports, it is their choice to follow the advice of team physicians and take opioids to begin with, to potentially become addicted. I do not absolve them from responsibility but I refuse to shriek from a pretentious moral high ground.
Let's be adults and face the reality of the situation.
Tom Liberman