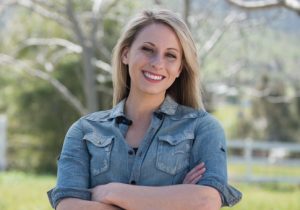 There's been a fascinating story in the news about United States Representative Katie Hill who resigned from her position after having sexual relations with a campaign aide, having lurid photos of her published in various news outlets, and being accused of having relations with a member of her staff. Why did she resign? Why is this even a story? Who actually cares? These are the things I hope to examine today.
Of all the things that Hill did, or has been accused of doing, the only one that presents a legal problem is engaging in consensual sexual relations with a staffer. In 2018 Congress enacted rules against doing so, this largely in response to the #MeToo movement in which generally women were coerced into sexual relations with their, often male, elected officials or faced retribution for refusing to do so.
The second issue involved the fact that the male aide she had sex with was twenty-two years old. Some people have a problem with that. The final problem is the lurid pictures of Hill that appeared in various outlets, generally from those of an opposing political philosophy. Some think Hill showed bad judgement in taking the pictures.
As a Libertarian I don't have a problem with anything Hill did and I have a problem with anyone who does, although that is certainly their right. If Hill wants to have sexual relations with a staffer then she should do so, as should anyone who works with anyone else. I understand that someone in a supervisory position can coerce an underling with various threats and I understand why members of Congress passed such rules. That being said, I think consenting adults should have as much sex in as many positions as possible. It's no one else's business.
If someone behaves in an illegal way; firing the underling for cutting off the relationship, blackmailing someone into having sex, that should be pursued with due diligence. The problem isn't people having consensual sex, it's that the legal establishment has long ignored those who were coerced or lost their jobs because they refused such advances. The rules preventing such behavior are clearly being selectively applied, every member of Congress, male and female, is aware of other members having consensual relationships with staffers and does nothing because everyone is happy as rabbits, as well they should be.
As for Hill having sex with a man ten years her junior. Good for both of them! I wrote an article about a woman having sex with an eighteen-year-old friend of her daughter some years back and my opinion has not changed. We have decided, for whatever reason, eighteen is the age of consent. Perhaps we find a fifty-year-old man dating an eighteen-year-old woman distasteful but that's their business, not mine, and not yours.
Finally, as to the naked photos, I have a very strong opinion on that. If Hill or anyone else wants to take lurid pictures of themselves that is their business. The despicable people in this are those who chose to publish the pictures without Hill's consent. Their behavior is both criminal and immoral from where I'm sitting. Posting lurid pictures of another person without getting permission first? Sick, disgusting. Doing so for political gain? I'd honestly like to put a bullet in the head of whoever made that decision but I'll restrain myself because I know doing so is illegal.
Hill should not have resigned, she did, as far as I'm concerned, nothing wrong.
Tom Liberman