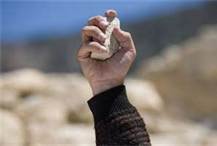 A lot of people are up in arms about the execution of a woman in Afghanistan. As is my want I'm not going to go after an easy target. The people who would do this are vile. We all agree. Let's take a look at the mentality that justifies such acts.
Old Testament
Leviticus 20:10 – If a man commits adultery with another man's wife–with the wife of his neighbor–both the adulterer and the adulteress must be put to death.
Deut. 22:23 – If a damsel that is a virgin be betrothed unto an husband, and a man find her in the city, and lie with her.
Deut. 22:24 – Then ye shall bring them both out unto the gate of that city, and ye shall stone them with stones that they die; the damsel, because she cried not, being in the city; and the man, because he hath humbled his neighbour's wife: so thou shalt put away evil from among you.
The Reported Words of Jesus
Matthew 5:28 – But I tell you that anyone who looks at a woman lustfully has already committed adultery with her in his heart.
Matthew 5:32 – But I tell you that anyone who divorces his wife, except for marital unfaithfulness, causes her to become an adulteress, and anyone who marries the divorced woman commits adultery.
Quran
Sura 24 (An-Nur), ayat 2 – The woman and the man guilty of adultery or fornication,- flog each of them with a hundred stripes: Let not compassion move you in their case, in a matter prescribed by Allah, if ye believe in Allah and the Last Day: and let a party of the Believers witness their punishment.
Interestingly I had been badly misled about adultery cases. To be convicted of adultery the accused woman must be testified against by four witnesses who saw the act in question. I had alway heard that the woman had to produce four witnesses to prove she was raped but it is, in fact, the other way around. If four witnesses don't confirm the original accusation the accusers is to be whipped.
Sura 24 (An-Nur), ayat 4-5 – And those who accuse free women then do not bring four witnesses, flog them, (giving) eighty stripes, and do not admit any evidence from them ever; and these it is that are the transgressors.Except those who repent after this and act aright, for surely Allah is Forgiving, Merciful.
The religious case against adultery is clear. It is evil and wrong and punishable by stoning in Jewish/Christian faith and whipping or stoning in Islamic faith. And, according to Jesus, if you look at a woman with lust you have committed adultery in your heart. Not a lot of wiggle room there.
Of course, this is madness. Few, if any, Christians agree with the punishment although almost all agree that it is a crime; despite often being flagrant violators of it.
The biggest issues comes with literalism as contrasted with Biblical Criticism. Basically you either believe the bible or quran is the absolutely literal truth or believe it is in need of interpretation according to the times.
Literalism is most closely associated with Evangelical Christians in the United States and proponents of Sharia law amongst Muslims.
If the words of the holy book are literal truths and adultery, even looking lustfully at a woman, is a capital offense there seems to be only one solution. Kill all men, except the gay ones, oh wait, gotta kill them too!
This is one reason I'm proud to stand in front of any group and proclaim that my faith is in the Constitution of the United States. That the holy books were written by people. That I am an Atheist. There is no god and certainly the exact words of the supposed god and saviors are unmitigated insanity. There are others who think differently. Some of those others kill women for the crime of adultery.
Where to you stand? Let me know in the comments.
Tom Liberman
Sword and Sorcery fantasy with a Libertarian Twist
New Release: The Hammer of Fire