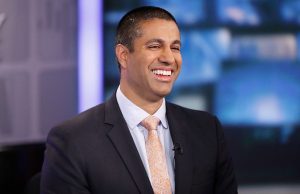 In the IT world there's been a heated and interesting debate going on for over a year about a denial of service attack Ajit Pai claimed happened to the FCC after his Net Neutrality announcement. The veracity of the attack has long been doubted and now Pai finally admits the truth but he is, of course, innocent of all wrongdoing.
I wrote an article detailing the entire episode which you can read to learn more about the actual events but what I'd like to focus on today is the smug expression of joy that Pai utters in assuring us he did nothing wrong. I'm pleased that this report debunks the conspiracy theory that my office or I had any knowledge that the information provided by the former CIO was inaccurate and was allowing that inaccurate information to be disseminated for political purposes.
I suppose there is some chance Pai is an abject moron and wasn't suspicious about the claim of an attack and therefore passed along the information in all honesty but I find that all but impossible to believe. Pai is an intelligent man whose parents are both doctors. He got an undergraduate degree from Harvard and a law degree from the University of Chicago. There is no possible way he is moronic enough to have believed the lies told to him by the former Chief Information Officer of the FCC. Certainly, he wanted to believe those lies because they made his own announcement regarding the ending of Net Neutrality apparently less controversial.
Those lies served his purpose quite well but there is no way he didn't at the very least recognize the statements he was making were highly improbable. What a person of integrity does under such circumstances is wait before publicly repeating the lies. A person with character interviews other people and makes a determined effort to find the truth rather than immediately disseminating the information for political gain.
Pai is not any of those things. He is a self-serving punk who is now patting himself on the back because technically he didn't lie. He repeated things that were almost certainly lies without making any effort to find the truth. If I do him the disservice of believing the statement he didn't suspect something was wrong, then I'll apologize for calling him a lying punk, he's just a complete and utter moron. But, I'm fairly certain that's not the case.
It's this kind of delusional thinking that is destroying our country. Well, technically I didn't know it was a lie therefore I'm in the clear. Please, don't inform me of any important facts because then I'll know the truth and I'm so much happier simply not knowing anything because it gives me plausible deniability. What a leader! Isn't this the kind of person you want in charge?
Tom Liberman