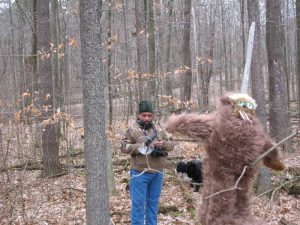 Oklahoma state representative Justin Humphrey filed a bill to open a Bigfoot Hunting season and people are apparently angry about it. Why are they angry? Because Bigfoot might be killed in the Bigfoot Hunting season. Well, there are quite a few things wrong here and I'm the fellow to tell you about it.
It's fairly difficult trying to pick a place to start. Shall I succumb to my Libertarian outrage and focus on government involvement in something it has no justification? Perhaps I should start with the stupidity that are people concerned with disrupting the non-existent lifestyle of a mythical creature.
I don't want to bog down in a debunking article talking about fossil evidence, climate, food source, genetic stability in a small population, or other common arguments about why Bigfoot cannot exist. I've already written about why people are prone to believing such nonsense.
Anyone who is outraged that Humphrey wants to institute a Bigfoot Hunting season because they are worried about the safety and well-being of such creatures is an idiot.
Then there is Humphrey and those who think this is a good idea to generate tourism and revenue to the state of Oklahoma. This group of people are completely wrong but in a different way. Humphrey is a representative of the state of Oklahoma and a government official. He should not be generating revenue for the state by selling hunting licenses for a mythical creature. That's something private industry should be doing.
What, what, what? You ask. That's right, I have no problem with the scheme as a whole, if people want spend their money on hunting licenses for a mythical creature, that's their business. If some private entrepreneur wants to cash in on this myth, great, have at it. I approve wholeheartedly. People spend their money on a lot of stupid things and my role-playing games and video games certainly strike many as a waste of money. I enjoy it, I'll keep spending my money as I see fit.
Obviously, the company so involved needs to make sure they use private property for their fun, ensure no one is using a working firearm, and pay for insurance in the inevitable eventuality that some idiot trips over a log and breaks their neck. That's all part and parcel of living in a free society.
When government is the one to institute such activities, it has gone far beyond its intended role. Humphrey completely misunderstands the role of government in society and he is not alone. Government officials think they are in the business of generating revenue rather than serving citizens. Most of their schemes involve getting money and if they happen to help the citizens, well, that's a nice bonus.
It's a government run Disney Land, nothing more and nothing less.
Tom Liberman