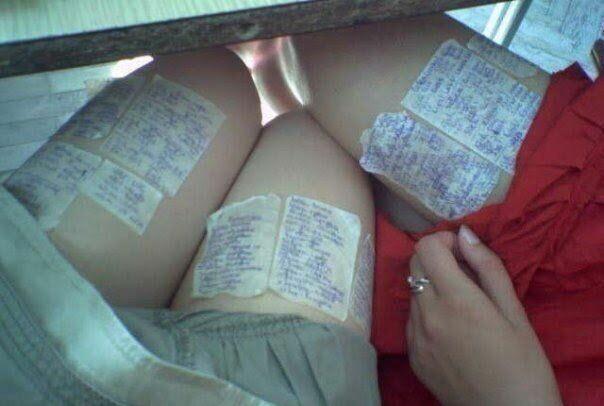 There was an interesting article about what we can learn about teaching from students who cheat. The article references a book called Cheating Lessons: Learning from Academic Dishonesty written by James M. Lang.
The article suggested that nearly 75% of students cheat during college and I would guess the number is closer to 100% if you count things like glancing at a neighbor's result to see if it matches your own. I doubt there are many people at all who have not engaged in at least the mildest form of cheating at one point or another.
The article suggests that certain types of teachers and methods of teaching engender cheating. I'm going to go into that in a minute but I want to quickly talk about what the article was not about.
While reading the comments on the story it became clear that majority of people thought the article was somehow absolving students of culpability if they cheated. That this was some sort of attack on personal responsibility. The idea being that it wasn't the student's fault they cheated, it was the instructor. That's not what the article was about at all. If anyone chooses to cheat, regardless of the circumstances, they should face the consequences of their actions. Again, that's not what this article was about in any way but I'm trying to prevent comments that are off topic.
Back to the point of the book and the article. The first point of the article suggested that failure was becoming less of an option. With mandatory federal dollars involved in passing an exam, both teachers and students didn't see failure as viable. The students had to pass the test for the school district to get the money. This led to an environment where students spent most of their time in repetitive (read boring) drills designed to pass the test but not necessarily designed to actually learn material. The book cited several studies in which students who embraced failure as a part of learning ended up learning more.
Certainly in life we often tell people they cannot succeed unless they are willing to fail. In an educational environment where failure is to be avoided at all costs it makes perfect sense to me that achievement and higher level learning would suffer, counter-intuitive though it is. The book suggests rewarding perseverance and hard work over achievement. Again, this seems illogical but a closer examination seems to me to reveal veracity to the idea.
The best way to find achievement is through hard work and tenacity. If we want achievement and don't stress the methods necessary to get there; we simply invite, even encourage, cheating. If we strongly encourage hard work, study, and perseverance, achievement will take care of itself.
The second thing discussed in the article is that a stimulating environment produces better results than a boring classroom. This seems to me to be self-evident but I've witnessed a number of educators suggest otherwise. Learning should not be fun, it's hard work, I've heard more than once.
The article again references the idea of the government mandated testing which results in a stagnant and dull learning environment. Disengaged students don't learn and often cheat.
The idea here is more straightforward. Educators who provide a stimulating and interesting environment produce students who cheat less and learn more. I have no doubt this is true. It's easy to think that students fail more difficult classes at a higher rate; however, I think the premise of the article is correct. That a stimulating, interesting, and engaged teacher often has a class that is far more difficult than other teachers but that the students score higher and learn far more. That's the goal, isn't it?
I'm certainly not saying we can eliminate cheating altogether but if we can reduce cheating, increase learning, and make things more fun; isn't that a noble goal? I'm also not saying that those that cheat shouldn't be held responsible. I'm saying that we shouldn't dismiss the idea that cheating might be more the fault of the educator than lack of ethics by the student.
Tom Liberman
Sword and Sorcery fantasy with a Libertarian Ideology
Current Release: The Spear of the Hunt
Next Release: The Broken Throne