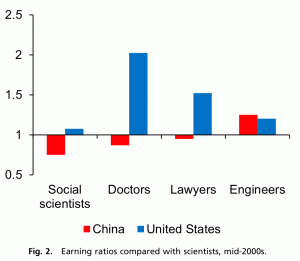 I just read yet another article about how China is churning out huge numbers of science graduates. This article went into some of the reasons for this changing face of education. In recent years China, India, Germany, and even Russia have taken the idea of producing a generation of technically savvy young scientists extremely seriously while the United States has not.
This has resulted in the explosion of engineers and other scientists in Asia and Europe while the numbers in the United States have remained relatively stagnant. I wrote about a fantastic space exploration mission accomplished by Indian scientists recently and this is only the beginning.
Many of my friends and people who comment on the articles are under the impression that young graduates in China and India are incapable of independent scientific thoughts. That they just steal the innovative technology from the United States and reproduce it. This was certainly true at one point but we've left those days far behind. This transition of scientific knowledge is coming at the dawn of what I call the Automation Age. We are quickly leaving behind the sorts of jobs that an unskilled laborer did. These jobs were the backbone of the Industrial Revolution. If you weren't all that smart it wasn't a huge impediment. If you had a willingness to work hard and do a less than glamorous job you could do quite well all the way until right about now.
The problem we see today is that we face an increasingly technical world. The workplace is filled with computers and just wanting to work hard, while a wonderful quality, is often not enough. If you don't have the education and technical skills necessary to do your job, you won't have a job. I'm not just talking about engineers and scientists but a mechanic, an electrician, an HVAC specialist, they must all be able to understand and work with computers. We're still in the transition phase to the Automation Age but things are moving rapidly. Robots are becoming increasingly sophisticated and will only get more so.
I can speak from personal experience as a technical trainer. I used to teach every day. Now I teach maybe 25% of the time and do web development and other work most days. I'm learning a lot from the young graduates of the local technical schools my company has hired and I hope that I make myself useful enough to keep around. I certainly can't keep up with them but I'm learning more all the time.
What I see happening is that science and innovation, as important as they were in driving wealth and creating a higher standard of living in the past, are going to become even more important in this era. The countries with the brightest minds will not only create wealth but business leaders will, by necessity, move their increasingly sophisticated factories to nations where people with the proper skills reside.
I'm not all gloom and doom. The fact that China, India, Germany, Russia and others are producing scores of technically savvy college graduates is not a bad thing in itself. It's good for the world to have more and more intelligent and driven people in it. I'm just concerned that the United States is losing the battle. I'm not the only one who sees this, industrialists understand and new methods of education are being tried all over the United States. We are still producing many of the top minds in the world and our education system is churning out fine scientists, just at a lesser rate than our economic foes.
The one thing that really struck me in one of the charts in the article I read was that doctors and lawyers earn far more than the scientists in the United States while in China they earn less. In the United States engineers are still well compensated but much less so than in China. Engineers are in huge demand in China but apparently not as much in the United States. What does this tell you?
This higher rate of pay naturally encourages young students to pursue degrees in engineering.
This is Randian capitalism at its finest. What society needs it pays for and thus encourages more people to pursue the money. So why are we paying doctors and lawyers so much and engineers so relatively little? That's the question. As time passes and we need more engineers and technically savvy people; so too will salaries rise to hire such qualified people. Nothing is forever and the gains China is making now may evaporate fifty years from now or a hundred. I don't know.
I do know that the trend is cause for concern. If future breakthroughs come from China, India, and Europe then wealth will follow. We've been the richest country in the world since the conclusion of World War II, some seventy years. When we're not anymore I don't think the nation will crumble. Maybe we'll be better off as the second biggest economy in the world, as the third. It's impossible to say.
What I think seems inevitable is that we face a new age with new problems. I'm confident we'll survive and thrive but change is coming and it's best to recognize it, plan for it, and understand the ramifications before it happens. Putting your head in the sand and pretending it's not happening is a bad idea. I see too much of that from our politicians and from ordinary people in comment sections and personal conversations.
Just because you want the United States to stay scientifically ahead of our foes doesn't mean we will.
Tom Liberman
Sword and Sorcery Fantasy with a Libertarian Ideology
Purchase The Broken Throne today!
See All my Books