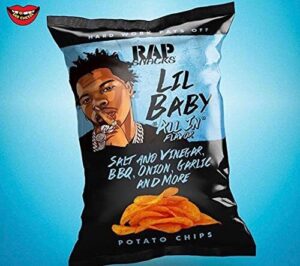 Today I recount an interesting interaction centered around a bag of what looked to be delicious Rap Snack Salt and Vinegar Chips. I've written about my life of White Privilege and about the Social Divide between black and white people in the United States. Today I write about that divide in regards to snacks.
Snacks you ask? Yes, snacks. After today's encounter, which I will detail below, I begin to wonder how many delicious snacks I've been missing out on.
Rap Snacks at the Hospital
I was waiting for my mother to get her blood drawn and overheard a nearby technician waxing poetic about her Salt and Vinegar chips. Now, readers, let me be clear. I love me some Salt and Vinegar chips. So, when I heard a fellow devotee of the delightful treat gushing, I interjected myself into the conversation.
We spoke for a few moments about our shared delight of Salt and Vinegar before I asked her about the brand. I did not recognize the branding on the bag as I normally get Kettle Salt and Vinegar Chips. She paused for a moment, looked at her fellow technicians, and then finally told me about Rap Snacks.
Let's Talk about the Pause
Why did my fellow Salt and Vinegar chip enthusiast pause? I suspect it was because she was a black woman and I am a white man. She knew, or at least strongly suspected, I never heard of Rap Snacks and likely the stores I frequent won't carry it.
What's important to understand is she's right, if that was indeed her thought process. Until that moment I never knew anything about Rap Snacks and I feel fairly confident they will not be on the shelves of my grocery store.
If you take a look at the image I'm using with this blog post, you'll probably understand why I've never hard of Rap Snacks despite my love of all things Salt and Vinegar. I'm not exactly in the market demographic for Rap Snacks.
Expanding my Horizons
It's a shame I'm not a targeted audience for the chips because if so, I'd almost certainly have purchased a bag. Will they be better than my normal Kettle Brand? Worse? Equal? I'm not sure one way or the other but I do know that I'm the worse for not knowing they were an option.
Now that I do know, I will go out of my way and purchase a bag. I'll likely get them from Amazon or Target although I'm sorely tempted to drive the short distance to a store outside of my normal shopping range and purchase them there.
I wonder how much else I miss out on in life because of marketing biases. I'll keep you informed when I manage to get my hands on a bag.
Happy Snacking!
Tom Liberman