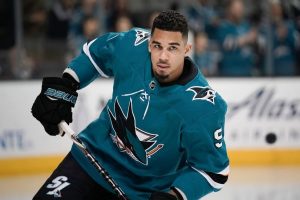 A news story just broke about a hockey played named Evander Kane and the fact he apparently owes the Cosmopolitan casino in Las Vegas half a million dollars in unpaid markers. He reportedly ran up the debt when his team, the San Jose Sharks, were playing the Las Vegas Golden Knights in the first round of the NHL playoffs in April.
I'm sure there will be many people lamenting the fact that Las Vegas, a center for gambling, now has professional sports teams when for many years the various leagues actively prevented such from happening. They will talk about the situation Kane finds himself in as a dire warning as to why athletes should not be traveling to Las Vegas on a regular basis. We will soon have a Las Vegas NFL team and it's likely an NBA team and MLB team will eventually join them.
The idea being that athletes who end up owing large amounts of money to gambling houses are potentially corruptible. Kane might be tempted to pay off the Cosmopolitan by playing a bad game on a night when the casino had a lot of money bet on his team to win.
To me, the situation quite starkly illustrates exactly the opposite. The difference is the Cosmopolitan has a legal recourse to get Kane to repay the money. That's the entire point of the lawsuit they've filed. Illegal gambling operations have no such leverage and must look for other ways to get the money back. That's essentially the entire argument against making things like gambling illegal in the first place.
Kane would have found an outlet to place his wagers even without being in Las Vegas. I readily admit being in the location makes it easier, but athletes have been going into gambling debt long before there was an NHL team based in Las Vegas. You can't prevent someone from gambling, so the best way to stop an athlete from becoming beholden to criminal gambling enterprises is to allow them to gamble legally. Then the casino can sue her or him for the money rather than extort it some other way.
People certainly seem to think making immoral activities illegal is a good idea but generally such laws create a far worse situation than the actual unethical actions. People are going to gamble anyway, that's reality. The fact Kane can legally be pursued for the money the casino claims he owes makes sports safer.
Tom Liberman