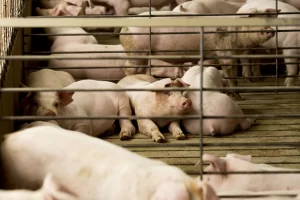 The Supreme Court recently ruled California pork rules for items sold within the state are constitutional. The ruling itself came from an unusual 5-4 split decision but that's not really what I want to discuss today.
The ruling is roiling politicians from pork producing states like Iowa and the leaders of factory farm proponents. Scott Hays of the National Pork Producers Council and Senators Chuck Grassley and Joni Ernst of Iowa all lambaste the ruling as working against small farmers. They are lying. Those three and others like them are not the friend of small farmers. Let's get into it.
The Rise of the CAFO
Small farmers are being decimated by Concentrated Animal Feed Organizations. I wrote about them recently in a ruling that went in their favor in Missouri. The rule upheld by the Supreme Court for California hurts not the small farmer but the CAFOs.
Small farmers are under tremendous pressure from CAFOs. We're losing small farmers at a tremendous rate to these enormous operations. Bankruptcy, suicide, and the selling of the family farm to bankers. That's the reality of being a small farmer today.
Chuck Grassley and Joni Ernst aren't on your Side
Small farmers are largely not affected by the California rule or, at the worst, can fairly easily comply. That's why a number of organizations that support small farmers filed briefs in favor of the California rule. The organizations that are badly hurt are CAFOs. They cannot easily change their operations to treat animals in a more humane fashion.
When Grassley, Ernst, and Clark begin their wailing and weeping they show their true colors. They are all for the destruction of the traditional family farm. They hate the family farm. They want the big CAFO and the big campaign contribution. This is largely the state of the Republican Party. People in rural communities are voting for politicians that actively work to destroy the family farm all the while lying and telling the farmers the exact opposite. It's vile.
Your Vote Matters
If the rural community continue to support politicians like Grassley and Ernst then it gets exactly what it wants and exactly what it deserves.
Conclusion
I'm not telling you for whom to vote but I am saying there are alternatives. It's easy to get into a mindset where one party is the cause of all your ills and you vote the opposite. Remember, there are third- and fourth-party choices who offer a different vision.
Tom Liberman