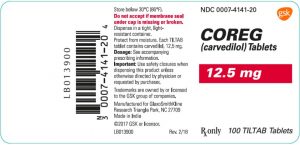 A company called Teva Pharmaceuticals just got hit with a $235 million penalty for selling a generic version of Coreg which can help with congestive heart failure. Teva sells it for 4 cents a pill while the brand name manufacturer, GlaxoSmithKline sells it for $1.50 a pill. And you wonder why medical costs are high in the United States?
If you suffer from congestive heart failure then you are forced to purchase your pills at an enormous premium, just to try and stay alive. The entire legal case is fairly instructive in understanding why drug prices are so high in the United States as compared to most of the rest of the world.
Glaxo has the rights to Coreg but the original patent expired. During its use, Glaxo determined that Coreg is also effective against hypertension. They got a new patent on Coreg for that disease which is still in effect. Teva markets their drug with a label that excludes hypertension to avoid patent infringement. Doctors, however, are well aware the generic Teva version of Coreg works well against hypertension as well as congestive heart failure, and, wanting to save their patients a lot of money, prescribe it.
It's all fascinating from a legal perspective but it is the actual impact that interests me the most. It's clear if Teva can make a generic version of Coreg for four cents a pill, that Glaxo could certainly drop the price on their version dramatically. Particularly to be noted; Coreg is already out of its original patent and any profit taking should have already occurred, that's the whole point of a patent.
Sure, Glaxo figured out Coreg had another purpose but that didn't cost them anything more in research and development. It's exactly the same drug they originally patented. They've had the legally required amount of time to make a profit off exclusive sales. Yet, they are still gouging patients at a rate of $1.46 per pill because they found a new use for it and can suppress competition.
This is part and parcel why healthcare costs in the United States are an enormous problem. I'm not against patents, I think Glaxo has every right to exclusively offer their product in order to recoup development costs. That time frame has expired.
The major drug companies use the FDA and the United States court system as weapons against anyone trying to produce cheaper version of medication. You pay. This case will cost you and those you love.
This is part of the reason insurance costs are so high, this is why tens of millions of U.S. citizens can't afford insurance, go without drugs, suffer terribly, and often die. The entire reason we have the Affordable Care Act, which is so polarizing, is because of this weaponization of the FDA and the court systems against capitalism in the form of generic drugs.
If companies were allowed to reasonably create generic drugs then we most likely wouldn't need the ACA, put that in your pipe and smoke it.
Tom Liberman