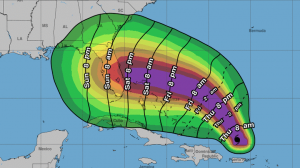 With the tropical storm season underway and our first Forced Evacuations occurring in Florida, I thought it a good time to chime in on the subject. What responsibility does government; local, state, and federal, have in protecting us from dangerous natural disasters? Should they be able to take us from our homes in forced evacuations?
There are arguments to be made on both sides of the issue. The unpredictability of natural disasters like hurricanes and volcanic eruptions often mean that many people were forced to leave their homes when the calamity never arrived. This is essentially government protecting people who do not want or presumably need such shielding.
On the other hand, it is often the case that citizens refuse to evacuate a location and end up in a situation where government agents spend time and effort rescuing such people. This costs money and, of course, there are those who cannot be rescued and die. These people would all have been better off if they complied with the evacuation order. Thus, government officials feel justified in a forced evacuation. If you won't leave on your own, you'll leave at the barrel of a gun wielded by your friendly law enforcement officers. If you're too stupid to save yourself, we'll do it for you.
It's obviously not just forced evacuations but all sorts of mandatory actions the government puts on its citizens in the face of potential emergency. Stores are closed, businesses lose revenue, people lose salary, and various other economic consequences occur when the government makes such decisions for us. Yet, the amount of money lost is miniscule compared to the dollars spent if the businesses remained open and occupied and the potential disaster came to fruition.
The answer for this Libertarian is not so simple and certainly painful. In today's world there is no excuse not to know a dangerous situation is impending. The government has every right to warn citizens and make suggestions about their behavior. If people refuse, they should not expect the government to make any attempt to rescue them. It's easy to say something like that but what if thousands of people are about to drown? Would I send in a rescue team? Of course, I would. Therein lies the problem.
Were I in charge in such a situation I would simply make that reality plain to all. There is the potential for a disaster. I recommend you leave. If you choose to stay you might not be rescued but I will do my best to rescue you in any case. It will cost money and that will be paid for out of taxes from all the people who did heed the warning, and everyone else in the region.
The other option is to force evacuations when most of the time they are unwarranted. This also costs money. Neither option is perfect, neither is life, or tracking the path of a hurricane.
Tom Liberman