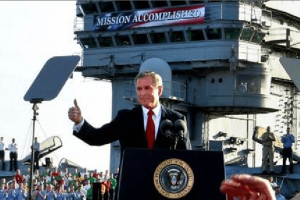 The phrase Mission Accomplished is irrevocably tied to President George W. Bush in association with his victory speech in May of 2003 in regards to combat operations in Iraq but I think it can easily be applied to the recent assassination of Iranian General Qasem Soleimani. The idea being because the shooting war with Iran didn't escalate, the worst is over.
I see people of the two main political sides of the fence sighing with relief or declaring mission accomplished. Neither reaction is warranted. I was opposed to the War in Iraq from the beginning. I stand firmly behind the idea the United States would be safer, the world would be better, and our political divide would be less if Saddam Hussein were still alive and in power. I know that I have the benefit of hindsight but I said it then and I'll repeat it now.
The problem is that this assassination will have consequences down the road. Upon hearing the news, I immediately imagined that Iraq might demand we remove our military presence in their country. My mind does not distinguish between a car bomb blowing up a U.S. dignitary and a missile doing the same to an Iranian. We have just legitimized any such action as being reasonable. Other countries that house U.S. troops are certainly pondering the idea that we might launch assassination from those bases, they might be considering expelling our presence.
Certainly, our reaction to Iran firing missiles at our bases in Iraq, or lack thereof, was partially predicated on the idea that the nations where we have military assets might have refused to allow us to strike back from those location.
Just as after mission accomplished in Iraq, I imagined a prolonged occupation of the country along with geopolitical turmoil, I imagine long term negative consequences to these actions. The faces I see lauding this mission accomplished are familiar to me, they were the same ones cheering before. The voices are the same as before. Perhaps they lack the imagination to understand this was no solution and almost certainly created more problems than it solved. Perhaps they have the ability but enjoy the warm-fuzzy feeling they get by ignoring it as compared to the horrible sinking pit that I feel in my stomach.
Way back in 1953 we overthrew the duly elected government of Iran and installed a brutal dictator in its place. I'm sure people were cheering the wisdom of President Eisenhower then. Today we favor Saudi Arabia and vilify Iran as people cheer on and on, but the long-term reality of those actions has yet to fully play out.
Despite all my imagination I did not envision an Arabic Caliphate in the form of ISIS or the terror it continues to perpetuate. What horrors will this latest action unleash? I don't know. I am quite certain it isn't mission accomplished; it never is.
Avoid foreign entanglements.
Tom Liberman