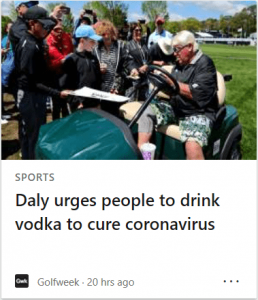 Is the Daly Vodka Cure really what golfer Jon Daly was suggesting in his recent video? It's an interesting Misleading Headline because Daly pretty much did say that his one drink a day, an entire bottle of Belvedere vodka, was the way to kill Covid-19. However, I don't think he is really suggesting the Daly Vodka cure as a serious panacea.
If you watch the short video, he advises people to be careful and to be safe and appears, at least to me, to be joking about his Vodka Cure. Here is where it gets fairly interesting for me besides the simple Misleading Headline. I do think Daly is kidding and I think the vast majority of people will agree with me. However, I well-understand people will believe pretty much anything, regardless of how ludicrous, as long as it aligns with what they want to believe.
It's entirely possible that thousands of people will take the Daly Vodka cure seriously. They will begin to drink a bottle of vodka, washed down with a McDonal's diet Coke apparently, as a way to ward off the illness. I'm frankly surprised that Daly didn't suggest his two-pack a day cigarette habit isn't actually the miracle that warded off Covid-19 but that's not really the point today.
Daly is a self-destructive person and his habits have wrecked his health and curtailed what was once a promising golf career. People like Daly and in many ways, he is a likeable personality. They find him humorous and entertaining. They see his life and think, why not. It's not so bad, sure, I'll likely die young from cancer or cirrhosis of the liver but what the heck, have fun now. And, they are right. That is to say they are right for them. Not for me.
I love life and want more of it. I don't want to curtail my ability to go hiking, meet fit women at the gym, go out with friends, and enjoy the occasional cocktail. Daly is not of that opinion and I'm sure he is not alone. That's none of my business. If you think drinking an entire bottle of vodka is a good idea for you, have at it. If you think it's going to cure your case of Covid-19 when all evidence suggests heavy drinking makes you more susceptible to the disease, again, that's your decision to make.
I'll even turn a blind eye, although my favorite mixologist over at Sub-Zero might see it differently, to the horror of blending Belvedere Vodka with Diet Coke, though doing so offends my sensibilities greatly.
Do remember one thing, in addition to the Daly Vodka cure, Daly suggests staying safe and taking care. If you want to destroy your own life, have at it, but if you're going to risk getting Covid-19 through risky behavior, do the rest of us the favor of staying away.
Tom Liberman