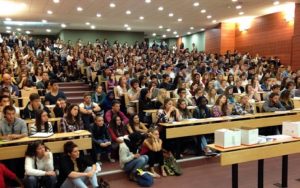 The issue of reopening schools is making a lot of headlines and parents all over the United States are hopefully learning a Libertarian lesson. Just because the Federal Government gives money to a particular organization does not mean they should write the rules governing it. Schools in this case. I've written on this topic before but from a State rather than Federal level. The lesson still applies.
Increasingly both Democrats and Republicans have used federal purse strings to influence how both state and local governments go about their business. Both Republicans and Democrats are not shy about using the money they provide to local government to rationalize said organizations must follow the directives of the federal government. Reopening schools is just the latest salvo in the battle.
Way back when I was a youngster of 19 at the University of Idaho, the drinking age was 19 and the federal government didn't like that. The National Minimum Age Drinking Act basically withheld highway funds provided by the federal government for those states not instituting a higher age. Before that the government successfully coerced states into lowering their speed limits.
Today the federal government has a financial interest in almost every aspect of our country and federal politicians use this fact to coerce the states and local governments into doing the bidding of whatever party happens to be in power in Washington D.C.
Now President Trump with the full support of the Secretary of Education, Betsy Devos, is attempting to coerce the various local municipalities by insisting students and teachers begin reopening schools. It goes without saying the various school districts across our nation are in vastly different circumstances. Some are in the midst of a Covid-19 crisis with cases rising and available respirators and emergency care beds available in hospitals dwindling or gone. Other districts have no cases whatsoever. If this situation does not illuminate to you the inherent problem with federal control, federal mandates, federal oversight, and federal oversteps then I suspect nothing will do so.
President Trump is threatening to cut of funding. Vice President Pence says explicitly: We're going to be looking for ways to give states a strong incentive and encouragement to get kids back to school. This is coercion. This is the federal government telling all local communities they must handle the crisis in the exactly same way despite the obvious different circumstances. If you don't find this insane, I suggest you might be a totalitarian fascist.
In our current situation the local community should decide if, when, and under what circumstances they will begin reopening schools. Anything else borders on tyranny.
Tom Liberman