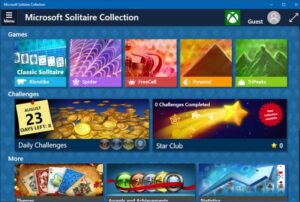 Everyday Microsoft Solitaire has a competition. It can be anything from a quick five match free cell with easy and medium games to a massive thirty game adventure with Klondike, Spider, Free Cell, Pyramid, and Tri Peaks with multiple expert games. Hundreds of thousands of players compete each day.
There are no rewards but time spent playing each game is tracked and players are ranked in a local group of fifty and overall, against all competitors. There are little ribbons for finishing in the top three of your group and a special Red Room where the top 100 players in an event are displayed.
I belong to a Facebook Group dedicated largely to playing in these tournaments, listing performances, talking about the games, etc. We've had a major kerfuffle and it's an interesting one, at least I think so.
Cheating in Microsoft Solitaire
As you might expect, there is cheating. People cheat in a variety of ways. The main way of cheating is simply to have multiple accounts so you can practice the game on one account and then play it through more quickly on your main account.
Some people take this to the extreme; recording a successful playthrough with software and then replaying all the moves in just a few seconds on their main account. As a quick example, I finished the recent Free Cell mini tournament of three easy and two medium games in 4:09 and won my group by over a minute. I'm a bit of a Free Cell fanatic.
The Red Room first place at this moment is 1:35 with over 115,000 people playing so far. This time is, naturally, impossible without computer aided play and will be bettered as the day goes on and more people use this method. I've seen the top finisher with a time below ten seconds for the entire event.
To get away from all the toxicity on the main Facebook Solitaire page where these cheaters are often unpleasant, the exclusive little solitaire Facebook group to which I belong was created.
Are you Going to get to the Point Soon, Tom?
Thank you for being patient as I'm finally at the crux of today's article. There is cheating going on in my group. Horrors! The differentiating factor is the cheater is using computer software. People are up in arms. Should we banish the cheater? Should we give the cheater another chance? Biblical references are being tossed around. People are angry.
Now, to let you in on a little secret; other people in the group play with multiple accounts and practice before playing on their main account. Some simply use the secondary account to study the board for a period of time figuring out best play in their minds before starting on their main account. Some practice multiple times to ingrain the quickest way to finish.
So, who is cheating really? Are only the people using specialized software cheating? Is anyone with a second, or third and fourth account, cheating?
Who is the Cheater in Microsoft Solitaire and Why do We care?
For me, there are no rules, so no one is cheating. There isn't an official Microsoft Solitaire rules committee that makes decisions and disqualifies people who don't follow the non-existent rules. I'm well aware people in my group don't play the way I play. Generally, I open up Microsoft Solitaire after I get back from the gym in the morning, start the tournament, and play through each game in order. I don't prepare, I don't examine, I play. Am I the Pure Player? The Good Guy? The Fairness Adjudicator?
Not really, it's just how I play. How other people play is their own business. I recognize my time is never going to be faster than those who play differently than me. I don't worry about comparing my time with them or anyone for that matter. I get satisfaction from playing my best. I get frustrated when I play badly.
If someone in my group wants to use computer assist to get incredibly fast times, that's their business. Now, does it annoy me slightly when he or she post all her or his fast times and brags about it? Sure. I'm not Perfect Tommy yet, but I'm working on it.
Conclusion
I don't want to come off as sanctimonious here. If my fellow Solitaire enthusiasts get angry at the "cheating", then that's cool too. If they want to banish the cheater then I won't stand in their way. I've just gotten to a point in life when people do things that don't materially affect me, I just don't care so much.
It seems to me this caring about how other people conduct their lives is out-of-control, particularly here in the United States. It's not just Microsoft Solitaire. It's a lot of things. I'm not going to delve deeply into all that today, but the idea is one of the reasons I identify as a Libertarian.
As Boy in the police stations advises: Your problem is you. You ought to spend a little more time dealing with yourself and a little less time worrying about what your brother does.
Tom Liberman