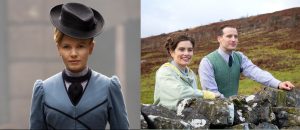 The PBS shows All Creatures Great and Small and Miss Scarlet wrapped up this weekend and their run gives me a chance to speak on their relative merits. I think a fair analysis of the two shows is in order because Miss Scarlet clearly has a Woke Agenda while All Creatures Great and Small displays many of the themes associated with that movement but with a significantly gentler touch.
The problem is that Miss Scarlet isn't very good, in fact I'd argue it's awful, while All Creatures Great and Small is rather a delight. Because of the Woke Agenda displayed by Miss Scarlet I suspect many detractors will lay blame on this theme while apologists will defend the show's shortcomings as actual strengths.
I'd like to take a more objective look at the two shows and what makes All Creatures Great and Small what I would call good and Miss Scarlet bad. I've spoken of subjective and objective in other places so I won't go deeply into them here.
What makes a show objectively good? Characters, cinematography, plot, theme, acting, directing, the ending, and other elements; not our subjective desires for a show to be good or bad.
The characters in Miss Scarlet are strikingly one dimensional. We know little about the titular character other than she was raised by a father and wants to be a detective. We know even less about The Duke, her love interest. Meanwhile, James, Tristan, Siegfried, Helen, and even the minor characters of Hugh, Mrs. Hall, Mrs. Pumphrey, and a host of others are more fleshed out than the main characters of Miss Scarlet. I have more empathy for the farmers whose cow is sick than I do for Miss Scarlet. One farmer stays up all night rubbing salve on his sick charge and that tells me more about him and his wife, who never lets James leave without a meat pie or two, than I know about anyone in Miss Scarlet. The most developed characters in Miss Scarlet are her patron and Moses, two side characters. Sadly, the director apparently chose to have Moses speak with such a heavy Jamaican accent I often don't know what he is saying.
The chemistry between the Miss Scarlet and the Duke is akin to Anakin and Leah if you'll permit me a Star Wars reference. I'm mystified as to why anyone would be attracted to either of them other than their appearance. Meanwhile the tension between James and Helen is palpable from the start. They care about the same things, they ask one another questions, they show interest in each other's lives, if they bicker it's just a good-natured jibe here or there, not a constant bombardment of quips designed to show us how clever is the writer. Even Hugh, the romantic rival, is portrayed as a real human being who cares deeply about Helen.
The acting in Miss Scarlet is atrocious. Both main actors display no range of emotion and their constant flirt/bickering takes the tension out of every scene that is designed to be tense. Someone is pointing a gun at them, time to throw quips at each other and grin condescendingly. Meanwhile I can't think of a bad performance in All Creatures Great and Small. Tristan starts out as an obnoxious, entitled, moron, and by the end he is a lovable, if flawed, fellow. The minor characters are believable and add to the show at every step.
The music in Miss Scarlet is overbearing and attempts to force us into emotions. It's time for action, time for fear, time for joy. It's loud and obtrusive. I barely notice the music in All Creatures Great and Small. It is subtle and enhances a scene rather than dominating it.
The cinematography in Miss Scarlet is boringly repetitive. Almost every shot in the entire series is a front on close-up of a character as she or he speak. Not to mention the bleak, dark, washed out background which are clearly designed to contrasts with what must be the focus of our attention, the vivid and bright Miss Scarlet. The vibrant country life depicted in All Creatures Great and Small is colorful and stunning although some scenes are dark and gray as appropriate. It is never dull, predictable sameness. Just look at the images I picked for this blog. One is sterile and one is filled with life.
The sets in Miss Scarlet are stark and tell us little about the inhabitants. There are few nick-nacks on shelves, few paintings on the walls, few personal items scattered about. Even Miss Scarlet's office has barely a picture of the father who supposedly so influenced her. Meanwhile the sets of All Creatures are filled with personal objects from the opulence of Mrs. Pumphrey's house to the peeling wallpaper in the home of the interracial couple whose dog is having trouble with her puppies. I believe real people live here, people with lives outside of the shot required for the show.
The story in Miss Scarlet makes little sense and the finale was so convoluted I completely lost track of what was happening. It was as if multiple pertinent scenes were left on the cutting room floor. As an example, Miss Scarlet has been put in a cell for her protection, although it's not clear why the villain wants to harm her, and suddenly, she is in the detective's office working on solving the case.
The story in All Creatures Great and Small certainly takes liberties with reality in order to further the plot but largely remains believable. I was regularly unsure of what would happen next. Would Helen go through with the marriage, would James turn around, would the cow die? I didn't know and I was invested in finding out.
The ultimate villain in Miss Scarlet is sprung on us at the last second and I'm not even sure why or how he managed it all. So much was unexplained I was left utterly baffled and dissatisfied. The ending in All Creatures Great and Small was bittersweet and totally in line with all the events that happened before it. I was left satisfied even though there was no final resolution.
In an English period piece, the clothing and scenery is almost always fantastic but in Miss Scarlet the tone was dark, darker, darkest with little of London on display. The clothes, you ask? Miss Scarlet and the Duke are always impeccably dressed in clothes that look like they just came from the tailor, this despite having been locked in a dirty cell all night or having been investigating in filthy brothels for hours. Speaking of brothels, I was instantly turned off to Miss Scarlet when she threatened to burn down the brothel and kill dozens of working girls and patrons because Moses stole her purse. I mean, she's vile and selfish, she doesn't think about others. Why would I like her?
Meanwhile the wardrobes in All Creatures Great and Small looked like clothes people actually wore all day. People got dressed up for fancy events but it was clear their fineries were not new from the tailor. Shirts look rumpled and lived in. Everything looked alive and real, as if these were real people from real life who happened to come across the camera that day.
I've gone on too long. You can certainly subjectively like Miss Scarlet and the Duke and subjectively dislike All Creatures Great and Small. That's your decision to make. However, an objective look at the elements of both shows comes to but a single conclusion.
Tom Liberman