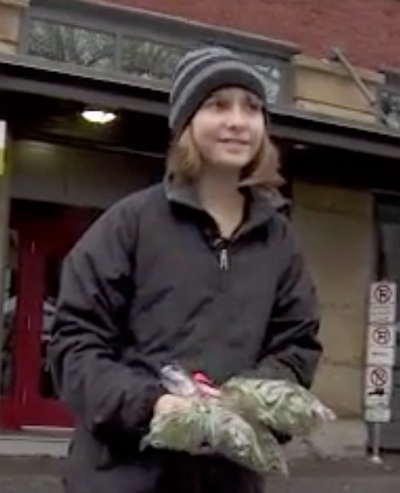 Another major news story just came down the pipe and I can't stop myself from writing a blog even though it's past my bedtime (10:00 p.m.).
Young Madison Root decided to set up shop in a Saturday Market in Portland, Oregon. She was selling her hand-picked mistletoe in the hopes of getting enough money to pay for her braces. She was told to pack her entrepreneurial spirit up and go home, she had no permit.
Judging by the comments I'm reading below the story most people think she was badly wronged. That she should be allowed to sell her wares in a public market. If beggars are allowed to beg why shouldn't an adorable little eleven year old girl be allowed to sell her lovingly picked mistletoe?
Well, call me Dr. Curmudgeon (I didn't spend four years in Curmudgeon school to be called Mr. Curmudgeon) but I think the security guards at the market did absolutely the right thing.
When the Girl Scouts setup their racketeering operation (you heard me right) at the local supermarket I'm quite confident they've done all the paperwork necessary to be there. The same for the Salvation Army and the Fire Department with their boots. I don't like it, I don't want to be disturbed and hit up for money when I'm tired and hungry but I put up with it because I know they've followed the rules.
Do we want unlicensed stands at every corner? Do we want anarchy? Do we Madison!? Well, do we?
I hate to be the bad guy (not really) but I don't want an army of cute girls selling me bracelets, mistletoe, cookies, or anything else. If you need permission to set up shop in a market then go to the trouble of getting permission. Don't just show up and go whining to the local television station about how unfair is life.
There are reasons we need permits to hawk our wares in markets. Legitimate vendors who go to the trouble of getting permission to sell their goods should not have to deal with some Madison-come lately who steals their business.
Call me what you will in the comments, I can take it!
Tom Liberman
Sword and Sorcery fantasy with a Libertarian Ideology
Current Release: The Spear of the Hunt
Next Release: The Broken Throne