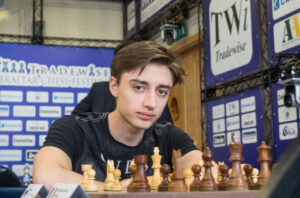 Chess talent Daniil Dubov is from Russia. In the recent World Chess Championship, the reigning champion, Magnus Carlsen, played challenger Ian Nepomniachtchi. Nepo, as he is generally called, is from Russia while Carlsen is from Norway.
After the match concluded, with Carlsen's fourth title defense and fifth overall championship, the champ revealed his team which included Daniil Dubov. One of Nepo's seconds, as they are called, Sergey Karjakin complained that Daniil Dubov somehow betrayed Mother Russia by working with a Norwegian against a Russian.
Several Russian chess officials agree with Karjakin and made it clear they consider Daniil Dubov somehow a traitor to Russian chess and his future on the National Team is now in some jeopardy.
It's a Contract
Daniil Dubov initially worked with Carlsen during the previous championship match against Fabiano Caruana. He contracted with Carlsen to continue working through this cycle even before Nepo won the Candidates tournament.
This leads me to my first, although least vehement, argument against forcing Dubov to change over to the Nepo team or at least leave Carlsen's. A contract was signed. It is far worse, in my opinion, for Dubov to break the contract or ask Carlsen to void it than to honor it. Dubov clearly enjoys a good working relationship with Carlsen and for the champ to pay Dubov to continue their work together is high praise indeed. An honor.
Individualism is more important than Nationalism
Frankly, this out-of-control nationalism, my country first business, is incredibly dangerous to the world. I'm against it almost always. We are not nations. Nor are we religions. We are not a race, a creed, a color. We are individuals. I am Tom Liberman first. I identify with my family, my city of St. Louis, my state of Missouri, my country of the United States, my community of Role-Playing Game enthusiasts, but I am first me. An individual.
Daniil Dubov gets to choose with whom he works and those who criticize this choice do so not out of so-called nationalism but raw intimidation. They hope to coerce Daniil Dubov into doing their bidding by appealing to his nationalism. Daniil Dubov stands up tall, well, not really all that tall, no offense, Daniil, I'm height-challenged as well.
He stands up for his desire to work with Carlsen and understands it does not in reflect, in any way, on his patriotism or love for Russia. Good for you, brother!
What's best for Daniil Dubov
My last argument is the one that strikes directly to why this story angers me so much. He must do what is best for Daniil Dubov. Working closely with the World Champion, arguably the greatest chess player in the history of the game, is objectively good for Daniil Dubov.
There is no question Daniil Dubov is a potential World Champion himself. He plays a creative game with flair and style but must learn discipline and caution in order to achieve this goal. Working with Magnus Carlsen is clearly the best way for him to improve his own game.
Conclusion
I found myself heartily encouraged by the comments sections in various stories about this issue. A rarity. It seems most people, many Russians included, side with Daniil Dubov. They think he is correct to work with whom he pleases and it in no way defines his patriotism.
The general tenor of the comments is that Russian officials are foolish if they ban him from the National Team but if they do, it's their loss.
Daniil Dubov, you have a fan in me.
Tom Liberman