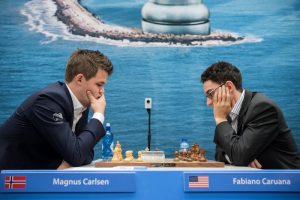 The death of nationalism is on display for the next few weeks at the World Chess Championship being held in London at the College in Holburn between reigning champion Magnus Carlsen from Norway and challenger Fabiano Caruana from the United States, by way of Italy. In past eras I, and most other people from the United States, would certainly be rooting for Caruana because of his nationality. In today's world, the nation someone is from is becoming less and less important, thanks to globalization brought by the internet.
Let's put this in perspective. The last time someone from the United States played for the World Chess Championship was in 1972 when Bobby Fischer challenged Boris Spassky. The pride of the United States was at stake and nationalism was running rampant. Everyone I knew was rooting for Fischer, this despite the readily apparent evidence that he was a complete and total jerk. Spassky, on the other hand, was a man to be admired for many reasons.
Nationalism is a big topic these days but many young people just don't pay attention to that sort of thing anymore. They know Carlsen because of his internet presence. They are fans of his because of this. His nation of origin is still of some importance to a number of people but that bias is slowly fading.
Certainly, many people in the United States are hoping Caruana wins just as many in Norway are rooting for Carlsen to retain his crown. However, because we've gotten to know the two through their internet presence, the circumstance of their birth is of diminished importance. We will continue to see this trend until there are no more nations at all, just people doing things they enjoy with others who enjoy the same thing, chess for example.
I happen to live in the fashionable Central West End of St. Louis where the Chess Club and Scholastic Center of St. Louis is located. I've actually run into Caruana on several occasions while out and about. He seems quite a decent sort. Many people are cheering him on because of his genial nature. Others prefer Carlsen for the fighting spirit he has exhibited throughout his entire chess career. He is prudent but goes for the win rather than taking the easy draw. Carlsen has set a precedent many of the upcoming chess players eagerly follow which makes chess a better sport.
Nationalism isn't going away tomorrow or next week but it's going away. That frightens a particular group of people who identify their self with the country in which they happen to live. That's a shame. The good news is; more and more people don't really care where you were born or live, just that you play a style of chess they enjoy watching.
As for me? I won't be disappointed if Caruana wins but I'd like to see Carlsen continue on as champion for as long as possible. He's been a tremendous standard bearer for the new era of the game. Carlsen's time will come eventually, maybe even in the next couple of weeks.
Tom Liberman