T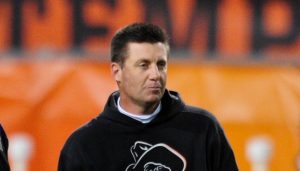 he head coach of the Oklahoma State football team, Mike Gundy, is not happy the young football players under his charge are allowed to transfer from his school to another without his permission. Gundy made his displeasure known by claiming, among other nonsense, that kids today don't have the toughness to stick with difficult things.
Hey, I can just do what I want and I don't have to really be tough and fight through it.' You see that with young people because it's an option they're given. We weren't given that option when we were growing up. We were told what to do, we did it the right way, or you go figure it out on your own.
This is not the first time I've heard an older person wax poetically about their youth. How they all paid attention to their elders, how they all knew right from wrong, how all kids today are spoiled and soft. How it was my way or the highway world. It turns my stomach every time I hear it. First off, Gundy is a liar. He knows darn well he, and lots of young people he knew, did not always do what they were told or do things the right way. That coaches often cut them slack. It's utter crap and everyone knows it. You know it, I know it, and Gundy knows it.
Young football players work harder and longer at their craft than kids did when Gundy was at school. The National Championship team of thirty years ago would be blown off the field by a good team today. The players are stronger, faster, and most importantly, far more educated in their craft. I say this not as a knock against former players, who were great kids also, but they didn't have access to the training resources available today.
Young players today spend countless hours studying film. When you explain to a football player why this technique in this situation is better and then show them on film, you get better players than if you just say, do it this way. Not only do the kids work harder but having an understanding of why they are doing something makes them better players and better humans. Kids today have lots of stick to it, just as much as kids from bygone years.
As for the underlying reason for Gundy's moronic statements; the fact a football player can't simply decide to go to another school without the permission of the first school is antithetical to all my Libertarian thoughts. Coaches can, and frequently do, transfer schools without permission in chase of higher paychecks. The young football players just want a chance to play. Most transfers occur because the player in question is not getting playing time in his or her current situation.
Can you switch jobs without getting your current employer's permission? Answer me that and then explain what about your personal life philosophy wants to take that freedom away from others.
Kids today, they're great. Adults with bad memories and a chip on their shoulder, not so much.
Tom Liberman