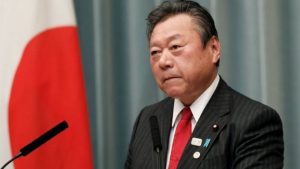 There's an absolutely fascinating story hitting the news about the Cyber-Security minister recently appointed in Japan. Yoshitaka Sakurada was unable to answer relatively simple computer related questions, eventually said he had never used a computer in his life, and went on to say he didn't think it would be an issue.
Is he right? Is he delusional? Must the minister of Cyber-Security have intimate knowledge of computers? Must any manager have a strong understanding of the job her or his workers are performing?
At first glance it would seem a manager is in the best position to succeed if she or he has firm knowledge of the work being done, but management philosophy doesn't necessarily support this idea. It is generally considered a good idea to promote an excellent worker into a management position over a project with which she or he is unfamiliar. The idea being that if the manager is overly hands-on it is detrimental to the project. The job of a manager is to get the most out of people, not do the actual work.
It's quite possible Sakurada will be an excellent Cyber-Security Minister. His specialty might be in managing people and that's good enough. It's also possible that his lack of knowledge over the division he is managing might prove a liability in the minds of those working under him. He might end up being a terrible minister. The point is, we don't know. That's what performance-based evaluation is all about.
The person who promoted Sakurada to Cyber-Security minister needs to accept responsibility for the outcome of this move. That's the way it should be. We can certainly say a person appears to be unqualified for a position. We can argue that a recent trade involving our favorite sports team was misguided. We can criticize or praise any such decision, that's well and good. But we can't know the outcome until we see the results.
What is vitally important is to assess the results with critical thinking skills. The person who appointed Sakurada wants him to succeed and we see, all too often, excuse after excuse, spin after spin, justification after justification, to explain why failure is actually success. That's the real problem. Not the hiring of Sakurada or anyone else for that matter.
It is important to make the hire for good reasons rather than political expediency. That being said, it's also important to withhold judgment until a body of evidence is presented. Good hires turn out bad and bad hires turn out well.
The best strategy is to hire the person you think best qualified and if they are unable to handle the job, accept responsibility and move on. The worst strategy is to hire someone not particularly qualified and make every excuse in the book to keep them in the position. Sadly, when it comes to politics, we often see the latter.
In this case, we'll see.
Tom Liberman