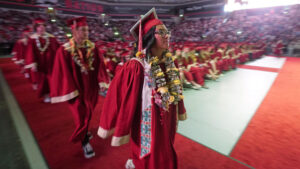 I just read an interesting story about Native Americans being allowed to wear traditional garb during school graduations. The Oklahoma legislature handily overrode Governor Kevin Stitt's veto on the matter.
The reason I think it's an interesting topic is the facts of the legislation and veto are largely misrepresented in the article and in public discourse. The legislature is largely being hailed for allowing the wearing of tribal regalia while Governor Stitt is being attacked for wanting to forbid such displays at graduation. This is largely false.
Neither Allowed or Forbidden
It's important to understand the Oklahoma legislature didn't simply allow students to wear tribal regalia, they made it illegal for schools to prevent them from doing so. Likewise, it's useful to understand Governor Stitt isn't forbidding students from wearing tribal regalia, his veto simply allows local schools to decide for themselves if such adornments to the traditional cap and gown are forbidden.
Libertarian View
It is my opinion Governor Stitt has the right of it. It's not in the purview of the state of Oklahoma to dictate graduation garb. It's not a problem for state government and by intruding on this local decision they extend an authoritarian control to the state which it should not have.
As I often say, if you agree with the state unilaterally giving something then you tacitly condone the state taking the same thing away. If the state of Oklahoma can tell a school district they must allow people to wear native regalia at graduation you are granting the state the authority to command students cannot wear such native regalia. This is the problem with government overreach in general.
The Slippery Slope
There is also the slippery slope argument if the state commands Native Americans cannot be stopped from wearing tribal regalia, other organizations will demand the same right. Can a Christian student carry a giant cross as they receive their diploma? Can a Satanist student wear a huge pentagram? Can a devotee of the Flying Spaghetti Monster wear a colander on her or his head? Can a student from France wear the French flag and sing La Marseillaise as they walk?
I'm not a believer in the slippery slope argument. If students of particular organizations want the right to wear such regalia, then each school district should decide on their own if it is allowed. This is the entire point of Governor Stitt in regards to tribal regalia. It must be up to the local school district or college to make that decision, not the state.
Conclusion
States' Rights should not trump local rights although the judicial system in the United States seems to have taken another view on that subject. We have swung too much toward States' Rights in this country. States now seem to have an almost totalitarian right to dictate to communities about anything they want, including whether or not a community is allowed to ban declawing cats. The state should not have the right to dictate to local communities any more than the Federal Government has the right to dictate to the states.
Tom Liberman