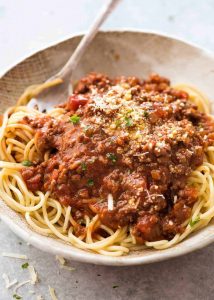 A philosophically inclined friend of mine recently posited a tongue in cheek question about her batch of pasta sauce and her family's disinterest in eating said treat. Is it delicious if no one eats it? While frivolous and fun, it is also an interesting question from a philosophical standpoint and, because I am unable or unwilling to resist the temptation to dive into such a feast, I shall attempt to examine it.
It is obviously a twist on the old if a tree falls in the forest question but there is an important difference. When a tree falls in the forest there is a sound save and this is a measurable phenomenon. Even if no one is there to hear the noise, it exists on a physical realm. Now, certainly pasta sauce exists in a physical way and taste buds in our mouths react to those flavors. But the idea of delicious is a construct, it does not exist physically but metaphysically.
Deliciousness itself is a subjective idea, its nature as a construct defines it as such. I find certain whiskeys quite delicious while others describe the taste of the same beverage in less favorable terms. If no one eats the pasta sauce then it cannot be delicious nor can it be vile. Yet, the pasta sauce is clearly made up of physical things that have flavors. If we compare those flavors with others that people have described as delicious, then it is certainly fair to suggest that Ellen's pasta sauce most certainly is delicious despite it not having been tasted by her ungrateful family.
Much like Schrodinger's cat, the pasta sauce appears to be in a state of quantum superposition. I know this will appeal to my friend whose dissertation is entitled, Mental Disorder in a Biomedical Age: Problems with Symptoms, Perils of Reduction. Yes, I know I'm a cyberstalker. Before she married herself off to a great fellow, before she gave birth to a pair of lovely children, and before she prepared her batch of pasta sauce, I was crushing on her at the gym. That is neither here nor there and we must return to the topic at hand.
Is the pasta sauce delicious? I think I've shown, with some logical consistency, that it is not delicious at all and it is quite delicious at the same time. I suspect you will find this conclusion as unsatisfying as a bowl of pasta, dripping with delightful sauce, of which you are not allowed to partake. Philosophy can be that way.
Take care and attempt to eat the pasta we call life with as much gusto as you can manage.
Tom Liberman