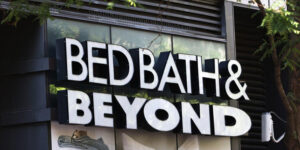 An alleged Pump and Dump scheme led the Chief Financial Officer of Bed, Bath & Beyond, Gustavo Arnal, to kill himself by leaping from a New York Skyscraper. This suicide is a symptom of an untrustworthy market environment destroying lives all across this country, and not just for CFOs like Gustavo Arnal.
Heavily involved in the death of Gustavo Arnal is GameStop Corp. Chairman Ryan Cohen who allegedly convinced Gustavo Arnal to engage in the pump and dump scheme, only to sell out his shares for a massive profit.
I don't much care about Gustavo Arnal or Ryan Cohen to be honest. If what is said about them is true, they are thieves and, frankly, murderers. What I do care about is the complete bankruptcy of ethics in the stock market that destroys the lives of many citizens of this country.
What Happened
Gustavo Arnal and Ryan Cohen reportedly created an artificial interest in purchasing Bed, Bath & Beyond shares. The did this in a number of ways but the important thing here isn't the details, but the result. They hoped to make millions of dollars by selling their own shares of the stock at inflated prices. The stock went from $4.38 per share to over $30 per share over the course of about a month.
The Result
The result of all of this is quite predictable. Cohen, who sold his shares, made a huge amount of money. Now, I'm a big believer in capitalism so you'd think I'd say, good for him. Well done. Not in this case. In this case the price of the stock went up not because the company showed any signs of being more valuable, but simply because people were manipulated into thinking they could get rich.
The problem is not that Cohen got richer, it's this money came largely from average investors who trusted the false information they were fed. Many people lost money they cannot afford to lose. This money was, for all practical purposes, stolen from them.
Caveat Emptor
Let the buyer beware. I agree. The people who bought into the Bed, Bath & Beyond stock manipulation should have known better. My financial advisors were not fooled. I lost no money. That being said, stupidity does not excuse fraud and theft. What Gustavo Arnal and Ryan Cohen are accused of doing was not only illegal but it was highly unethical and extremely harmful.
Pump and Dump is Rampant
This sort of stock manipulation is rampant in the market. People are losing their life savings in cryptocurrency scams, penny stock manipulations, and more. Celebrities, influencers, politicians, and more are leaping at the chance to steal from you to enrich themselves. It's working.
Prison
Now, finally, law enforcement is catching up to those who engage in this behavior. Charges are being filed, lawsuits are pending, and people are going to jail. That doesn't help someone who lost their child's college fund or their retirement nest egg. That money is largely gone and will never, ever come back to anyone except a few law firms who successfully sue the thieves.
Solutions
One of the things I try to avoid here is simply laying blame without providing solutions. The solution here is multilayered. Law enforcement stepping in is a good thing but there will always be scammers when people can be scammed. There will always be drug dealers when people want drugs. The enforcement and interdiction side of the equation is the smaller part of the battle.
What must happen to stop this is people learning and applying critical thinking skills. I've written a number of articles touching on the topic which I'd encourage you to peruse.
We cannot stop people from stealing when millions of dollars are available for the taking. For everyone we arrest, five more will take their place. Cutting the head off the snake does no good. It is only when people learn to think critical and not let the allure of riches cloud their judgment that we will leave this scourge behind.
It is a scourge, of that there is no doubt. The suffering engendered by pump and dump schemes cuts a wide swathe across this country. From urban to rural. From farmers to fast food workers. People lose more than their money, they lose hope. They lose faith in the system.
Tom Liberman