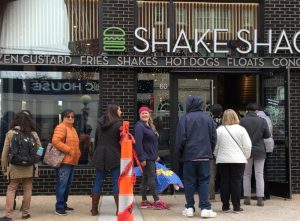 What does it tell you a Shake Shack Government Loan was returned? For a lot of people, it's a gesture of goodwill by Shake Shack to the other small businesses that need the money more. That's not the way this anti-government Libertarian sees it. The Shake Shack Government Loan was simply a way to make the company obligated to the government, the owners didn't seek it, didn't want it, didn't ask for it, but got it anyway. Forcing them to return it.
I'm proud to say the Shake Shack founder is St. Louis hometown hero Danny Meyer. Yet another illustrious graduate of John Burroughs, a fine school my lack of academic prowess disqualified me from attending. That is not the point of today's article.
Why would anyone get a loan they didn't want or need? That's a question you must ask yourself. Why would any entity be given a check they didn't ask to receive? One of the main reasons is the United States Government is big on giving out loans, our entire financial system is largely based on giving out taxpayer money as loans, this money generally having to be repaid with interest that goes to friends of politicians.
The government is certainly using Covid-19 as an excuse to further entangle the interests of its patrons into every aspect of citizens life. This unwanted intrusion didn't start with Covid-19. President Trump created a Welfarm State with ridiculous tariffs, the Post Office was intentionally bankrupted, the Airline Industry has been a government subsidy since its inception and resulted in the planned destruction of the highly successful passenger rail system, the entire horse meat industry was destroyed. This is how government operates in a Republic.
In a Republic there are limits to what government officials can do. There are Checks and Balances. This being the case, government officials must wile their insidious evil in different ways. One of the ways they do this is to make people and businesses their unwitting partners. The government is happy to loan you money, purchase your products at inflated prices, because they then become a partner in your enterprise. You owe them.
The Shake Shack government loan is just another in a long line of takeover attempts that have reduced the United States to a system of Crony Capitalism. At least Shake Shack saw through the subterfuge although many others do not.
We no longer have a capitalistic system here in the United States and I suspect we won't have a Republic for much longer either.
Tom Liberman