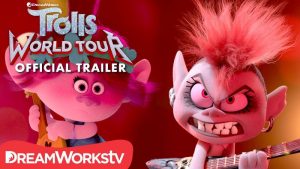 AMC Theaters just announced they will no longer showcase Universal Film movies. Why are they doing it? Because Universal released Trolls World Tour directly to home viewers rather than offering it to theater chains first. Universal did this largely in response to the fact most theaters are closed because of the Covid-19 situation.
The stated problem for AMC Theaters and their CEO and President Adam Aron is simply the release of the movie in a way that bypasses the theaters. There is some truth in this but I suspect the bigger reason for the decision is that this particular release generated over $100 million in revenue. A number that is similar to the projected take for a widescreen release. This is a frightening confirmation of something the movie theater owners and operators have long feared, the end of their revenue stream.
More and more people watch their media at home and on their devices. This is undeniable. Hollywood revenue has remained relatively stable for the last eleven years after having nearly doubled in the same period prior to 2009.
Universal released Trolls World Tour directly to viewers and this is not particular strange. Plenty of content providers are doing the same but not for what are considered Blockbuster Movies. For companies like AMC Theaters the blockbuster has become the heart of their revenue stream. Independent movies continue to thrive but generate far less revenue than blockbusters. Meanwhile, streaming services like Netflix, HBO, and Amazon are taking a bigger and bigger bite out of their potential content.
AMC Theaters wants to stay in business. Universal Films wants to make as much money as possible and those two desires are now in conflict. Thus, the strongly worded letter from AMC Theaters. That letter, quite amusing if you read the whole thing, has this little gem within: Incidentally, this policy is not aimed solely at Universal out of pique or to be punitive in any way…. I chuckle. It is absolutely done out of pique and is punitive in nature. That boldfaced fib alone is enough to make me take Universal Film's side in this issue.
AMC Theaters has legitimate concerns and they are desperately attempting to slow the movement of media consumption away from theaters and onto devices. Perhaps they will succeed. Maybe Universal, and other content providers, will ignore the fact they made as much from a non-theatrical release as they would have from putting the blockbuster in theaters.
Of course, if AMC Theaters goes through with this plan, they are also eliminating a major studio from their theaters and thus a large stream of revenue.
Personally, I think the steady decline of people viewing movies at the theater will continue and AMC Theaters will eventually go the way of Blockbuster Movie Rentals. Perhaps I'm wrong. Time will tell. What do you think?

Loading ...
Tom Liberman