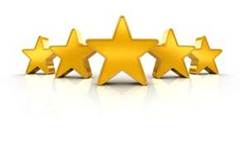 There is an article in the New York Times that strikes directly to my business model in trying to sell my Sword and Sorcery novels. It turns out most of the five-star reviews you've read on Amazon, Barnes and Noble, and Smashwords were likely purchased. The going rate was fifty reviews for $1,000.
Supposedly Amazon and B&N have caught onto the practice and banned the main offender but I'm very skeptical. When I first entered the self-publishing world with The Staff of Naught, I joined a number of author groups all over the internet. I was immediately inundated with offers to review my novel for a fee. I gave a free copy of my book for one of these reviews. I got a four-star review that looked as if the person hadn't read the book and the review seemed based mostly only the blurb I put as the description.
I had a recent experience that shocked me. One avenue that I use to publicize my novels is to self-pirate it to torrent sites. The torrent site that I use is the immensely popular Demonoid which was recently shut-down by the government. While reading an article on ZDnet I ran across an author who wrote a "good-riddance" letter. I posted my own experience with Demonoid wherein the majority of my book sales stemmed from torrented files that the person read and then purchased. The author who posted the "good-riddance" message got into a bit of a flame war with those who supported Torrenting and some of those people posted negative reviews of her book.
Now comes the shocking part. The author asked Amazon to remove the negative reviews and they did! Apparently this is a common practice. So, not only are positive reviews manufactured but negative ones can be deleted.
My books are priced at $2.99 and a reviewer of The Hammer of Fire, one of two neither of which I solicited in any way, pointed out that while this seems like a small sum there are so many terrible self-published books that even such a minor expense is difficult to make without reviewer proof of a good novel. But, if reviewer proof is manufactured where does that leave the consumer?
Personally, I'm not going to pay for a review ever again, not even for just a copy of the book, and I've never asked my friends to write positive reviews. I have asked people who read the book to put an honest review on Amazon, Barnes and Noble, or Smashwords.
Don't think for a moment that is positive review practice is limited to books. And don't think that competitors aren't out there writing negative reviews. What's a writer to do? What's a consumer to do? It's a dilemma.
I would suggest finding the author's blog if they have one and read it to find out about their style. Download the sample and read it. See if they have a GoodReads Author Group where they answer questions. See how they respond to reviews. I have a samples of all my books at my site, you're currently reading my blog, I have an author group (with six whole members), and I respond to my reviews.
I think there's a lot of a great writing out there but it's difficult to find. I think anyone who spends $2.99 on my books will find that they get value for the price. But, in the end the market will determine if that's true.
Don't trust reviews, particularly five-star reviews that don't go into details about the book in question.
Oh, and for sure, BUY MY BOOKS!! 🙂
Tom Liberman
Sword and Sorcery fantasy with a Libertarian Twist
New Release: The Hammer of Fire