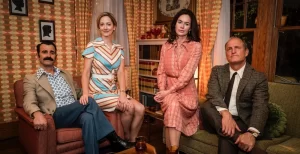 Blown away. White House Plumbers is a stunning take on the events surrounding the Watergate Scandal of the Nixon administration.
Hilarious. That's the word that comes to mind and it's obviously a strange description of a show depicting the events here. I haven't laughed out loud this much at a television show in I can't remember how long.
Let's get into why I loved this mini-series.
White House Plumber Mediocre Reviews
The show isn't receiving rave reviews and that doesn't particularly surprise me. It takes on a topic of political importance that has a great deal of meaning to a lot of people, even those not around at the time of its unfolding.
The satirical, darkly humorous take presented here is bound to offend people on all sides of the political aisle. Democrats will loathe the humorous take because they consider this a serious topic. Republicans will not like the portrayal of most of the parties as moronically stupid.
Acting in White House Plumbers
If there is anyone left in the world who doesn't believe Woody Harrelson is a tremendous actor, I hope his stunning performance here disavows them of that misconception. Meanwhile, Justin Theroux stands toe-to-toe with Harrelson's E. Howard Hunt in a jaw-dropping portrayal of G. Gordon Liddy.
I mean to say, Holy Fucking Shit! What performances. I believed. I double-believed. The two work with one another and their co-actors like perfectly ticking metronomes.
Hunt's children were outstanding. The wild daughter, the dissolute son, the good daughter, and even the young boy. Lena Headey as his wife was my only, slightly, sour note. I thought she over-played it a tad but that's understandable when trying to avoid being totally overshadowed by the over-the-top Liddy and Hunt.
Judy Greer as Liddy's wife absolutely nailed it. She's better known as a comedic actor but she is amazing here.
All the bit players, Toby Huss as James W. McCord, Sr. Domhnall Gleeson as the weaselly John Dean. The list goes on and on. Everyone playing the Cubans. I don't want to leave anyone off but I must. All good. All believable in situations that are impossible to believe.
The Tone in White House Plumbers
A hilarious satirical look at the Watergate Scandal? It's almost impossible to conceive of this take. If you pitched it to me, I'd have told you to go back to the drawing board. How does it work? I'm not totally sure, but it works.
Out of the box, subverting expectations, madness. I love it.
The Utter Stupidity of it All
The show doesn't pull any punches on the idiocy of the entire plan. Hunt is a damaged man, traumatized by the failed Bay of Pigs invasion and driven by delusions surrounding it. Liddy is simply an insane idealogue, his righteousness so predetermined he need not examine anything with a critical eye. He is right, was right, will be right. That drives everything else.
Together they bring down the president of the United States with their moronic behavior.
The final scene between Liddy and Hunt is a stunning display. A standoff worthy of Clint Eastwood and Lee Van Cleef.
I was particularly impressed with Liddy's rationalizing the utter stupidity of it all when he justifies his actions by spinning it to be his plan all along. To sow distrust in the American public of political institutions. This is a mad man whose behavior is particularly enlightening at this time in American history.
Conclusion
A lot of people won't like this show, let alone love it. They'll be offended. They'll be upset. Count me not among them. I loved almost every second of it. The acting, the writing, the sets, the music, everything.
Well done to everyone. Well done, indeed.
Tom Liberman