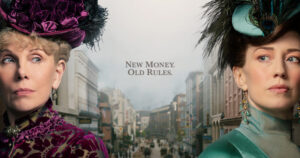 Episode Two of the Gilded Age came and went with a number of the same problems as the premier and new ones to add to my distress. I assure you, dear readers, I want to love this show. I love the time-period portrayed and the many ideas it might explore but it is, so far, failing to rise to the occasion.
This episode carried over the wooden acting from the first episode and failed utterly to focus on a main story. If you read my reviews of Around the World in 80 Days, you'll remember my complaint about competing main plots. It's the same here.
Too much was left to happen off-screen as well. We need to see the important things, not be told about them. In any case, on with the review.
No Central Support
This episode had no structure. It was just a series of scenes swirling with a dozen different plot lines. It needed central support. One theme to rule them all, one theme to find them, one theme to bring them all and in the darkness bind them. The interesting part, at least for me, is that there is a central theme to work around. The charity event could easily be the structure upon which the entire episode is based.
The charity event is the subject of the denouement when George defends his wife's feelings by shutting it down with an ostentatious display of wealth. My problem is that the episode didn't use the event as a central support by which to drive a compelling plot.
What we Didn't See
A number of important events happened off screen and we only learned about them via exposition from various characters. This is particularly appalling when you take into account the shortness of the episode at forty-five minutes. Show instead of tell but with time to spare, nope.
The biggest omissions involved the charitable gathering. The coincidence of the event having to switch venues is critical to the entire plot but it's not explained in any way at all. It just happens. Why not have Bertha or George engineer the conflict? That's interesting.
Then have a scene involving the picking of a new venue instead of a couple of lines of exposition where the organizers blame each other. We don't know what is true and what is fabrication. It leaves the audience out of show entirely and it's extremely frustrating from a viewing perspective.
If we see this, then the scene where Bertha throws her tray becomes significantly more impactful. The next thing we didn't see is George consoling Bertha and making his grand plan to ruin the event. I want to see George's love for Bertha, his rage at the snub. Not just the cold finale. I want to see the events that led up to it.
Of less concern is why didn't we see Mrs. Bauer's proclivity for gambling at some point? Even a simple background scene where she's playing cards for money or tossing dice with the handsome young footman. And why didn't the debt collector want silver candlesticks? They are valuable.
Also perhaps worth noting is Oscar's eagerness to meet with Gladys. If we are to believe he's a gold digger then we need to see more of it. It comes across as flat and unreal.
Wooden Acting
The acting continues to be largely, but certainly not completely, atrocious. The on-screen chemistry between Marian and Raikes is only rivalled by the intensity of Anakin and Padmé. You could actually put out of a fire with the sparks that fly between them.
It's quite interesting to watch because certain actors are good for a few lines but then you can almost see them forcing dialect and becoming stilted and monotone. Oscar is believable and relatable and then utterly monotone and boring all within the same scene. It's inexplicable.
Mystery for the Sake of Mystery
I also want to take a moment to discuss the plot line involving Mrs. Chamberlain. It's clear she's an important figure and her desire to becomes friends with Marian is interesting but totally unexplained. It seems the writers want to keep the viewers out of the loop so they can spring some surprise on us. It's not a good way to write.
I'm not suggesting the writers need to tell us everything but we need important information. In a mystery you don't give away the murderer but you also don't hide the fact that the murderer has a twin sister until the final reveal. You must trust the audience. Give us something. Don't treat us like idiots.
Conclusion
I'm going to continue watching The Gilded Age because there are a few excellent performances and the time period is fascinating. They need to get cracking though. I'm quickly getting bored.
Tom Liberman