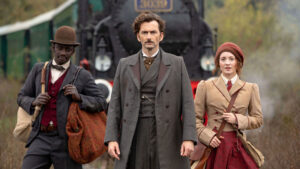 I've been complaining about Around the World in 80 Days since the start but I'm happy to report I mostly enjoyed this week's episode. I'm not saying it's the finest piece of television ever produced but it generally hit the mark despite some enormous plot holes.
Around the World in 80 Days never lacked from actors with talent but the story failed in so many ways we didn't really get to see them action until this episode. Here we see Fix, Fogg, and Passepartout largely stuck on an island which allows us to learn about them. This is the sort of information that gives an audience reason to care about the characters.
That being said, the episode still has problems. Enough prelude, on with the review.
Stuck on an Island
The main plot structure allows us to learn more about the characters as they are stuck on an island after being forced off the luxury liner. I initially found myself extremely put off by the opening but I'm willing to forgive. The obvious question is; how did they get there?
Apparently, the gun-toting villain rounded up the characters, had them lower the lifeboat into the heavy seas, climb aboard, and launch. All without the crew or other passengers intervening. This is obviously ludicrous and certainly why it wasn't shown. It makes no sense. But, let's get past that and discuss character development once our heroes wash ashore on a deserted island.
We learn a great deal about Fogg and his lost love. I'm saddened this information did not find its way into the story until so late in the series. It's the kind of thing that invests an audience into rooting for a character, to care what happens. Now, Fogg's story is so pathetic, so weak, that I find him somewhat distasteful rather than heroic but it's something at least. For the first time I feel for Fogg. I care.
We also get background information into about the friendship between Fogg and the others at the Reform Club after Passepartout correctly surmises who is trying to prevent them from accomplishing the goal. Again, this is really useful information and makes us like the characters. We understand the dynamics between the Fogg and his friends for the first time. This information should have come earlier but we finally get there.
Coming Clean
We also get apologies from all parties. Fogg admits his own failings. Passepartout comes clean about drugging Fogg and Fix admits revealing Fogg's lost love was not proper. This is real character bonding. We start to actually like the heroes. Again, it took six episodes but we're here at last.
My next opinion is nitpicky but it bothers me enough that I find myself compelled to mention it. The old British Stiff Upper Lip. Fogg as portrayed by David Tennant is over the top. He screams, yells, and waves his arms all the time. His histrionic banishing of Passepartout just didn't work for me. I want a cold heat; a burning intensity being suppressed in order to act like a gentleman. I want Fogg to tell off Passepartout with cold, calculating words while heat burns underneath. It came across to me as improper and wrong.
Wrapping Up Around the World in 80 Days
The episode wraps up with all the characters displaying noble traits, working together, sacrificing, and coming through with a triumph. It's all a little too convenient but it largely works. I'm actually on board with Fix, Fogg, and Passepartout for the first time in the series.
Conclusion
It's probably too late. I never built up enough emotion for Around the World in 80 Days but at least we finally got some interesting character development and story structure. Having them stuck on the island without competing main plots helped us get here.
The best episode of the series so far. It's a shame it took so long to get here.
Tom Liberman