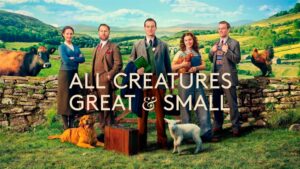 The latest episode of All Creatures Great and Small featured the return of Hugh. It afforded the writers an opportunity to present a clear villain to contrast with heroic James. They didn't do so. Perhaps they had a couple of shots where Hugh smiled at the misfortune of James but that's as far as it went.
Today I want to examine why Hugh is portrayed in this manner and what I think about that choice. It's an interesting concept because most shows tend to break down the world into simple choices. Good guy versus bad guy. All Creatures Great and Small chose not to go that route.
Who is Hugh?
Hugh was the romantic interest and rival for Helen's affection from the first season of All Creatures Great and Small. The two were engaged with their marriage marking the season finale. Helen, for various reasons including her affection for James, calls off the marriage at the last moment leaving Hugh at the altar.
The Reappearance of Hugh
Hugh is absent from season two up until now, although he is mentioned several times. This episode starts with James going to Hugh's estate to ring a young bull. Hugh seems to smile at James's misfortune with the bull and that leads the audience to believe Hugh is going to play the villain.
It turns out Hugh had the nose ring inserted because he planned to give it bull to Helen's family as gift in replacement for a bull purchase that fell through as part of an episode in the previous season. He also puts Helen's name on the farm deed as part of the renewal. Here is where we see Hugh not behaving in a villainous fashion. We learn he's actually a decent fellow.
The central plot point of the episode is the cricket match between the landed gentry of the region and the local farmers. Hugh is the star bowler for one team while James is a late entry for the local side, although he lacks much experience with the game.
The Big Match
During the match, Hugh has a heartfelt talk with Helen where he admits his own trepidation about their relationship and shows no hard feelings.
In the big match Hugh faces James with the entire game at stake. James allows Hugh to win and rationalizes later to Helen that he felt he owed Hugh a win. Hugh then shakes James's hand and offers him congratulations for a good game.
Why is Hugh Generous?
This question is the main focus of my blog. Why not make Hugh a monster? He has every right to be angry at James over Helen. Why not have him seek revenge? He might fail to renew the lease. He could purposely hit James with the cricket ball. He can make snide and nasty remarks at James's expense. He doesn't, but why?
Certainly, in a lot of other shows, that's exactly the way they'd portray Hugh. A villain for the sake of comparing him to the hero. How are we to know James is a good guy if we don't have a bad guy for the sake of comparison?
It's my opinion the reason Hugh is a good egg is because that's more realistic. It trusts the audience to understand that sometimes life happens. Just because James is a fine fellow doesn't mean his romantic rival must be evil. It makes us view Hugh as a human being, not as a caricature of one. It's nuanced and it's interesting.
I like it
I think it's probably pretty easy to guess my opinion on the portrayal of Hugh in All Creatures Great and Small. I think it's great the writers are willing to trust my judgment. They don't need to turn the world into tropes and boring cliches.
I don't need Hugh to be bad to understand James is good. I don't need James and Helen to be good all the time either. If anyone is a bit petty and angry in this episode, it's James.
Well done, well done indeed.
Tom Liberman