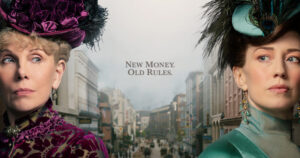 Instead of talking about what didn't work in this week's episode of the Gilded Age, I will focus on the parts that did. That doesn't mean it's going to be all smiles and sour candy. I do love me some sour candy but that's neither here nor there. Now, I reserve the right to contrast the parts that work well with those do not.
This is the third episode of The Gilded Age and I think I've got a pretty good feel for the show. It's not great, frankly it's not very good, but it has moments. My reviews of Episode One and Episode Two cover lots of things I think didn't work. So, if you're looking for witty and critical thoughts, check out those reviews.
Competing Stories
There are an absolute ton of stories going on in the Gilded Age. We go from one unrelated scene to the next with dizzying speed and it's all I can do to keep up. Really the only thing that makes a difference is the acting. The storylines all meld together and I really don't care about one more than the other except where the actor makes a difference.
The Best Storyline in the Gilded Age
The most compelling story in the show is likely the least important. Competing story lines include George taking on City Hall, Marion's love life, Ada's unexpected suitor, and Peggy's short stories among many others. Yet, the one that grabs me, the one for which I eagerly await the next scene is Jack's pursuit of Bridget. Why? Because Ben Ahlers is killing it as Jack.
Ahlers is the only actor who seems capable of ignoring the direction and dialect coaching that plagues this show. Every moment on screen his youthful exuberance and joyful expressions shine through like a beacon on a dark and stormy night. Ok, maybe I'm exaggerating a little but his performance is so vivid and full of life compared to everyone else that it absolutely pops.
Taylor Richardson as Bridget falls into the middle ground. Sometimes she's bright and enthusiastic like Ahlers but then you can almost see the director come into the room. Less emotion! Less expression! Less tone! Read the lines, don't say them!
Young Jack gives us more in a single glance at Bridget while attending the Theater Optique then most of the rest of the cast do in the entire series so far. I'm interested because Jack is interesting.
The Second-Best Story
The next most interesting story involves the trials of Gladys Russell. Taissa Farmiga plays her with a wide-eyed innocence that comes across well. As with Richardon's portrayal of Bridget, at times Farmiga falls prey to wooden block school of acting apparently encouraged on the set of the Gilded Age. That being said, she is often quite endearing and sweet and I am rooting for her eventual coming out party.
It's clear now said party, with a full Russell ballroom, is being setup as the denouement to season one. That's a good thing because it means we'll see more of Farmiga. Sadly, I suspect the ball will be more about Bertha than Gladys. Still, it's something.
Small Guest Role
I would be remiss if I didn't mention the literary agent's scene with Peggy at the newspaper. He was extremely effective in portraying the economic impact of institutionalized racism. It was clear he was not a racist himself but also did not possess enough courage to risk his business to fight those who are so.
It was a nuanced performance and I thought the actor handled it perfectly.
Conclusion
I'm afraid that's about it. No one else is very good and none of the stories are all that interesting because of it. Sure, potentially they could be fascinating studies of the Gilded Age and the people who lived it. Sadly, I'm just not feeling it.
Tom Liberman