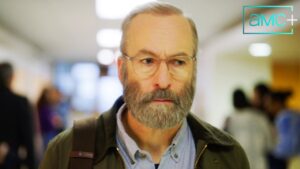 I just wrapped up the first season of Lucky Hank and I'm quite sad to say I didn't much care for the show. It features Bob Odenkirk who recently wrapped up the critically acclaimed and audience beloved Better Call Saul.
In Lucky Hank, Odenkirk plays William Henry Devereaux, Jr., the head of the English department at Railton College. He is deeply traumatized by a failed relationship with his absentee father and somewhat world-weary in general.
Odenkirk Benefit of the Doubt
Sentiment for Bob Odenkirk as an actor is on a high note because of his outstanding performance in Better Call Saul. I suspect many of the good reviews about Lucky Hank are related to this rather than a honest reflection of the show itself.
Critics and audience reviews are relatively mixed with some people loving the show completely while others agree with my assessment, it's not very good.
Why is Lucky Hank Bad?
I think the underlying issue with Lucky Hank is a reliance on entertaining the audience with individual scenes and quips from the characters. I've spoken about this sort of thing before in regards to The Gilded Age and Succession.
Essentially, someone thinks up a good one liner for Hank or one of his cohorts, and then designs an entire scene to setup that line. It's often something witty or cruel with the intention of getting a laugh from the audience.
The problem is that these scenes come and go without tying into a broader storyline. The audience may or may not laugh, I didn't, but the scenes create plot points then completely abandoned. It creates issues with the timeline as well. I don't know from one episode to the next how much time has passed because they are desperate to get in a scene, even though it doesn't really fit.
One example is Hank's mysterious pains which cause him terrible agony. This is used at the doctor's office and a couple of other places in early episodes and then never mentioned again. This leaves me wondering, hey what happened with his pains?
Another example is Lily's restaurant scene where a couple next to them is caught in an affair and the man must move to her table. She uses this moment to tell the man everything she's been feeling about Hank. It's such a contrived way of doing it. It felt unreal, stupid. Another similar thing happens with the real-estate agent. Everything is forced and doesn't feel organic to the character or the scene.
A bigger example is Hank's traumatic meltdown at the faculty dinner party he and his wife host. This is a painful, awful, scene. By the next episode it seems to be completely forgotten. No one really mentions it again, it was as if a writer decided to give Odenkirk a big dramatic scene and then forgot about it.
Horrible People
There really isn't anyone likeable in Lucky Hank and that's a problem. I don't mind a few unlikable characters but it's difficult to find anyone here worthy of any investment of my feelings.
The bartender/adjunct professor Meg seems like a good egg until she completely betrays Hank's daughter by sleeping with her husband. Not to mention she wanted to sleep with Hank and betray his wife as well.
Friendly professor Tony seems like a good guy at first glance but let's take a look at his main episode, which followed Hank's meltdown.
They are at a conference and the idea is to portray Hank as a self-absorbed jerk and Tony as a decent fellow. The reality is that Tony just witnessed Hank having an enormous crisis and doesn't even mention it. All he's concerned about is his own lecture. He's not a caring friend. He's horrible.
Bad Stereotyping
Stereotyping on this show isn't quite as awful a problem as on The Ark but it's particularly bad here in regards to Hank's son-in-law Russel and the poetry professor Gracie.
It appears the show writers were concerned about being labeled as a Woke show and thus decided to make Gracie the butt of every joke. She's the anti-woke version of a feminist. She's awful in every regard. Meanwhile, perhaps wary of being labeled anti-woke, Russel is the hapless, moronic male character often depicted in Woke shows.
The reality is that both of these characters are everything that Woke isn't supposed to be. We shouldn't judge a book by its cover. People are unique and have their strengths and flaws. They are real people with problems but also good qualities. Gracie and Russel are written flat, boring, and frankly offensive. Neither one comes across as remotely real or relatable. They are there for people to make fun of them.
Conclusion
I just didn't believe any of the characters. None of them come across as fully-formed. The dialog, the scenes, the story, it's all just jammed into place trying to get a laugh here or there but not tell a complete story.
I didn't like it. Maybe you did.
Tom Liberman