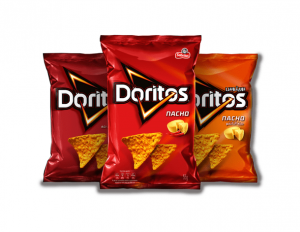 PepsiCo CEO Indra Nooyi recently gave an interview in which she noted market research indicated men and women generally have different habits when eating Doritos, a snack made by the company. She said the company planned to release products that catered toward the eating habits of women. Social Justice Warriors Triggered!
How dare a company market a product designed specifically for men or for women besides, say, tampons and jockstraps. What unbridled sexism to suggest research indicates women generally don't like to lick their fingers of the Dorito residue or pour the crumbly remnants of the bag directly into their mouth.
The problem is groups of people do perform tasks differently, eat particular foods, and otherwise differ from one another for a variety of reasons including gender. If PepsiCo has done market research indicating certain Dorito eating trends in women then promoting a product to that gender's preferences makes sense. What it doesn't mean is all women eat Doritos in a particular way. That's the gist of all the tumult. An angry female says: I'm a woman and I do like to lick my fingers of the Dorito residue. I'm a woman and I enjoy pouring the crumbs from the bag into my mouth.
No one at PepsiCo is telling you how to eat your Doritos. They are simply creating and marketing a product toward particular trends their research indicates. They discovered a certain percentage of women don't eat Doritos because their fingers get sticky and they don't like leaving the crumbs behind but are unwilling to pour them directly into their mouths. I'm sure there are plenty of women who do these things just as I'm sure there are plenty of men who don't like sticky fingers and crumbs.
Let's imagine the research indicated 70% of women don't like to eat Doritos in the way described. With there being about 300 million people in the United States and approximately 150 million of them being women that suggests 45 million women out there do not meet the trend. That's a lot of ladies. It also means about 105 million of them behave as the marketing indicates. Now, I'm making up the 70% figure but let's work with that for the sake of argument.
What PepsiCo has found is their product is unappealing to 105 million women because of the sticky residue and crumbly product. They want to target that large group of people, who happen to be mostly women. Is that wrong? Is that sexism? Is that terrible and awful? I say absolutely not. I say it's finding a market and making a product that appeals to it. That's smart business, not sexism.
No one is saying all women eat Doritos in a particular way or that all women are dainty and all men are rough. It is impossible to deny there are differences in women and men. Savvy companies use those tendencies to market their product to specific segments of society. Does anyone deny certain television shows and movies appeal more toward women than men and vice versa? Does this mean all women love Chick Flicks and hate Action Movies? Does it mean men don't like Chick Flicks? No. I think Steel Magnolias is a great movie but I love The Right Stuff and Fight Club as well. It's a tendency, not a sexist agenda.
Men and women are unalike in some respects and their respective preferences in eating Doritos might just be one of those differences. That's a fact whether you like it or not.
Tom Liberman