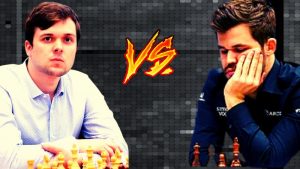 Magnus Carlsen Shows Up for Consolation Match
Magnus Carlsen, the World Chess Champion, was defeated by Jan-Krzysztof Duda in a hotly contested semi-final match in the Chess World Cup that came down to tie-breaks. Because of this Carlsen found himself in the position of playing a third-place consolation match against Vladimir Fedoseev.
Not only did Carlsen show up for this match but he opened it with what some are already calling one of the most brilliant games of Carlsen's career. I think this sort of thing speaks highly of Carlsen but also sets an important example for champions to come.
Magnus Carlsen is following the example set by the previous champion, Vishy Anand. That's a testament to both of them.
The Contrast
For some champions this sort of loss can lead to petulant behavior. Novak Djokovic, considered the best tennis player in the world at the moment, recently lost in his bid to win an Olympic gold medal and behaved with less elan.
Djokovic threw his tennis racquet into the stands in a fit of rage. He refused to play in a scheduled doubles match with his partner, thus depriving them both of an opportunity for a gold medal. This sort of behavior is something that young players see and emulate.
Poor Behavior is Contagious
When top level golfers like Brooks Koepka and Bryson DeChambeau feud publicly, hurling nasty insults at one another, they somehow convince themselves it's good for ratings, that people love watching such spats and unprofessional behavior.
It's true videos of Djokovic and the two golfers make headlines and people are interested in such things. It's also true that poor behavior of this nature is contagious. Future top-level golfers, tennis players, and others will emulate these champions. That's not good for sports and it's really not great for society.
What I find interesting is that while most people rightly criticize the tantrum thrown by Djokovic, and others like him, people clearly want to see more of it. That's a shame.
It's more than just a championship match, it's about how to behave in your own life. We are all going to lose at something in life and it's always going to be painful. If we fight against our despair and go back out, even for a consolation match, it makes our society a better place.
Imagine if, in a rage, Carlsen decided not to play. The chess world never gets to see today's brilliancy.
Conclusion
The ability to handle defeat with grace is an admirable character trait. I far prefer the example Magnus Carlsen sets than that of Djokovic.
The old adage that people enjoy watching a train wreck remains. As for me, I prefer a true champion, both on the playing field and in life.
Tom Liberman