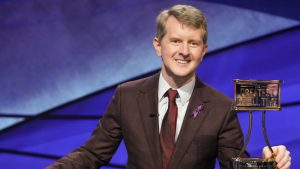 The last episode of the game show Jeopardy hosted by Alex Trebek aired this past Friday and speculation has been rampant that Ken Jennings will be his replacement. Ken Jennings is largely considered the greatest Jeopardy contestant of all time and, as such, seemed to many people, a natural replacement for the iconic Trebek.
It was clear to me from the beginning that Ken Jennings wasn't a good fit for the position but the speculation and expectations give me an opportunity to speak on a subject I find quite interesting. Being good at one thing doesn't mean you're going to be good at anything else.
Sports fans like myself are well aware of the old adage that those who cannot do, teach. Generally speaking, the best managers of baseball teams are those that weren't particularly great players. This fact translates to most athletics. Yet, there is a common, I'd almost say universal, perception of exactly the opposite. People think a great player will make a great manager and are shocked and disappointed when it fails to happen.
I'm not going to talk about Ken Jennings and his various social media statements as a reason to disqualify him from hosting Jeopardy. I want to discuss the qualities that make a person good at one thing and why people seem to think those self-same qualities will translate to something else.
Ken Jennings has a fantastically well-rounded knowledge of many subjects. We call this trivia but that is not really a fair assessment. He has knowledge and a lot of it. He is also coordinated enough to be able to click in at the right moment which is no easy task on Jeopardy. Often times you have to click quickly before your mind even truly processes that you know the answer. You have to understand the pattern of the question, match it to your general knowledge, and come to the conclusion you will likely know the answer before you click the button, as there is a penalty for incorrect answers. That Ken Jennings is elite, perhaps the best in the world, at this, is unquestionable.
Asking the questions is a completely different skill set. Hitting a baseball is completely different than understand when a starting pitcher has had enough, especially when he's your ace and he's damned pissed when you come out to the mound to take him out of the game.
What I'm trying to say seems obvious and I think most people agree. Being a game show contestant is a completely different skill set than being a host. Ken Jennings is a bit awkward; his body language is stilted; he doesn't provide a comfortable personality which draws out the best of contestants. He's just not going to be a good host, that's reality and it's relatively obvious.
So, why? Why do people think he'll be the best host of Jeopardy to replace the fantastic Trebek? Why do humans seem to connect excellence in one thing with greatness in another? Why do we think a world class expert in one subject has anything useful to tell us about another topic? And, most importantly, why do we put someone in a position of power in a field for which they have no knowledge?
Dr. Ben Carson, current Secretary of Housing and Urban Development, is a brilliant neurosurgeon. He also believes the Great Pyramids were built as grain silos. This is the folly of believing because someone excels in one field, they must be fully qualified to do something else. It's a dangerous way to make decisions.
Yes, Ken Jennings is a great Jeopardy contestant. Of this there is no question. However, he's almost certainly not a great Jeopardy host and this is the lesson.
Tom Liberman