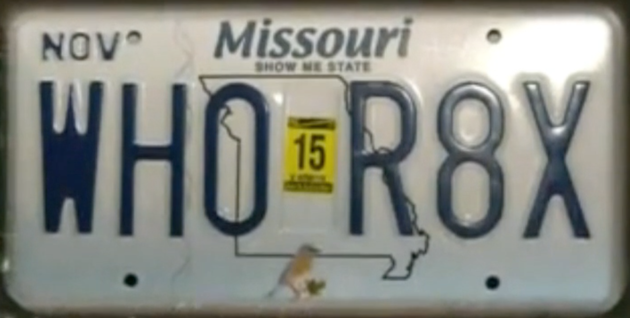 I just read a story that isn't that big of a deal except that it happens to have taken place here in my beloved Show Me state of Missouri. A woman was offended by her state issued license plate.
Take a look at the image and see if you can figure it out and then read on.
According to the offended Missourian it reads – Whore Eight Times.
I thought it read Who Rate X?
I'm on record as saying words have power and I will not deny that there are combinations of randomly generated letters and numbers that could and should cause offense. Not many people want a license plate that has truly offensive words on it. The state attempts to avoid this and even refuses to allow relatively innocuous license plates because they might be misconstrued.
In this case the woman could have paid $17 to get a replacement plate but instead, over the principle of the matter, took it to the local news station. The bad publicity eventually got the state to waive the fee and issue a new plate.
The woman claims that people were yelling offensive terms at her when they saw the plate and therefore it was up to the state to replace it. Again, I don't think this is that big a deal but why should I have to pay for the cost of replacement over something that isn't blatantly offensive? Someone's $17 in taxes for the state of Missouri went to cover that replacement.
In addition I'd like to address people who make fun of other people over a license plate. It's like when you're a kid and someone makes fun of your name. It's a state issued license plate. It's the name you have. When I was ten years old a fellow who happened to have the name Lipschitz provided short-lived amusement. By the time I got to High School it was pretty clear to me and everyone I knew that making fun of a person's name was juvenile.
So what can we take from all this? People who make fun of random letters on a license plate aren't worth worrying about. People who tease you because of your name aren't worth thinking about. They've got their own problems. In addition, people who worry about non-offensive things in their life have bigger problems.
Don't sweat the small stuff.
Tom Liberman
Sword and Sorcery fantasy with a Libertarian Ideology
Current Release: The Spear of the Hunt
Next Release: The Broken Throne